Getting Started
To start looking for link prospects, you need to create a project in LinkAssistant. This is a one-step process, and all you need to do is follow the wizard that pops up automatically once you open the program. To activate it yourself, simply click New: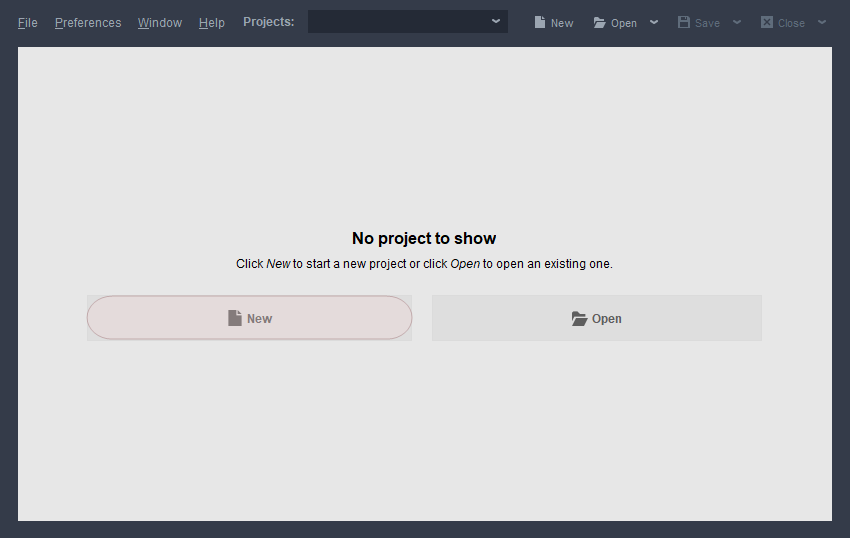 Specify your site and start looking for prospects
Once you've entered the URL of the site you'd like to promote, you'll see a blank workspace of the Prospects module. From here, you can locate the Look for Prospects button.
Step 1: Select Prospect Search Method
Choose what type of link prospects you'd like LinkAssistant to look for. Pick any of the 11 pre-defined methods or set up a search of your own.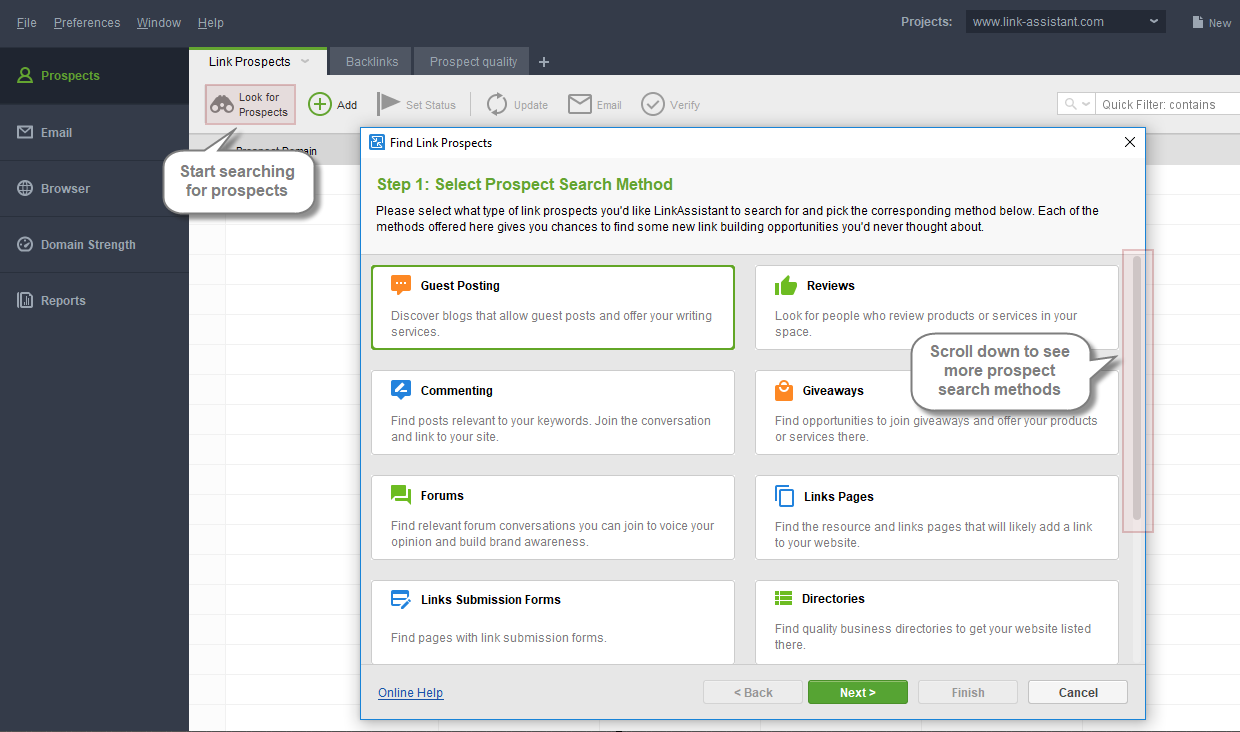 The 11 pre-defined methods have inbuilt search operators that allow for a targeted search depending on the type of link prospects you're looking for.
Guest posting: discover blogs that allow guest posts and offer your writing services.
Reviews: look for people who review products or services.
Commenting: find posts and leave comments with links to your site.
Giveaways: join giveaways and offer your products or services.
Forums: find forum conversations to voice your opinion and build brand awareness.
Links Pages: identify links pages that will add a link to your website.
Links Submission Forms: find pages with link submission forms.
Directories: locate business directories and get your website listed.
Topical Blogs: explore your industry blogs and post opportunities.
Competitor Backlinks: discover websites linking to your competitors.
Your Backlinks: find active backlinks to your site.
Meanwhile, the Custom Search option has no pre-defined search operators and lets you specify your own criteria for link prospect search.
Step 2: Enter your keywords and other method-specific data
Under this step, you are required to enter keyword(s) or key phrase(s) relevant to your business. Depending on the method, specify a search engine, website URL, as well as search mode where applicable.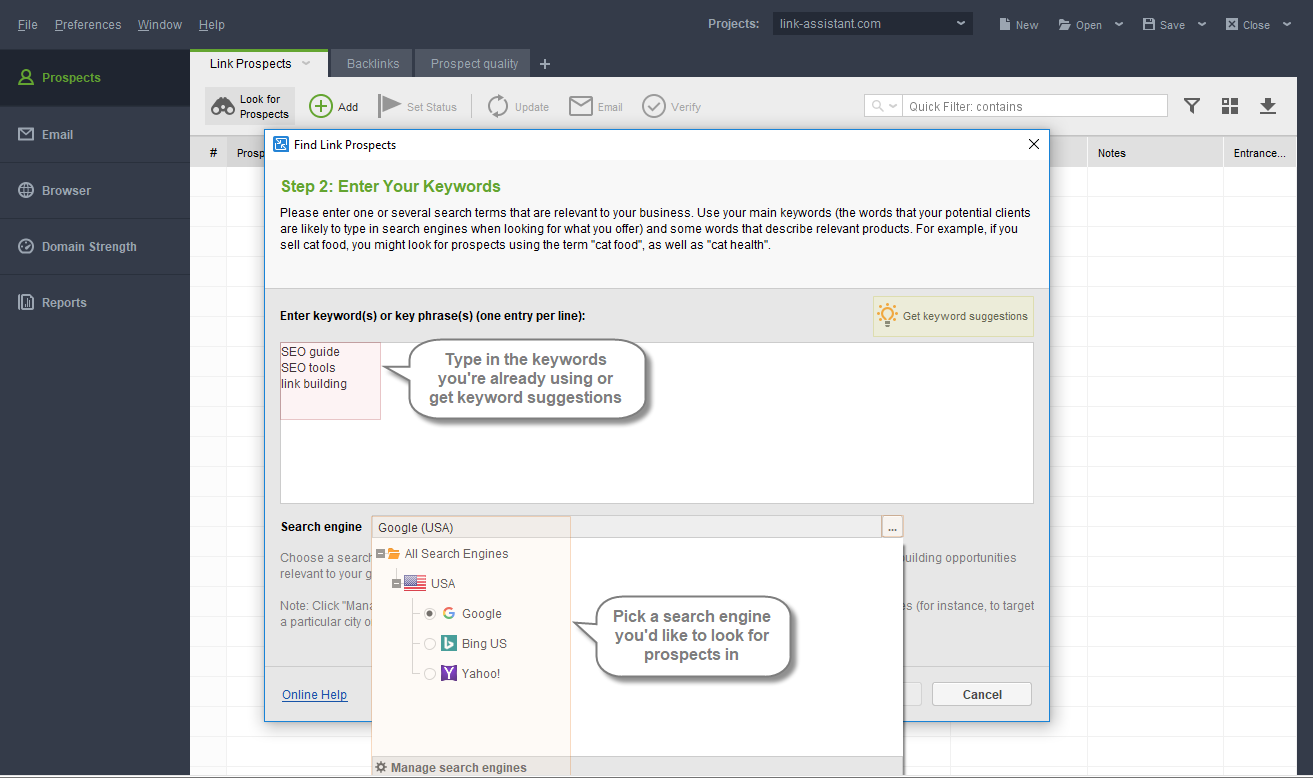 Pro-tip: to get local prospects suggestions, set up a custom search engine for LinkAssistant to target a specific country, region or city. This will ensure link building opportunities relevant to your geographical location.
Click Manage search engines to access your preferred search engines list and create a custom search engine.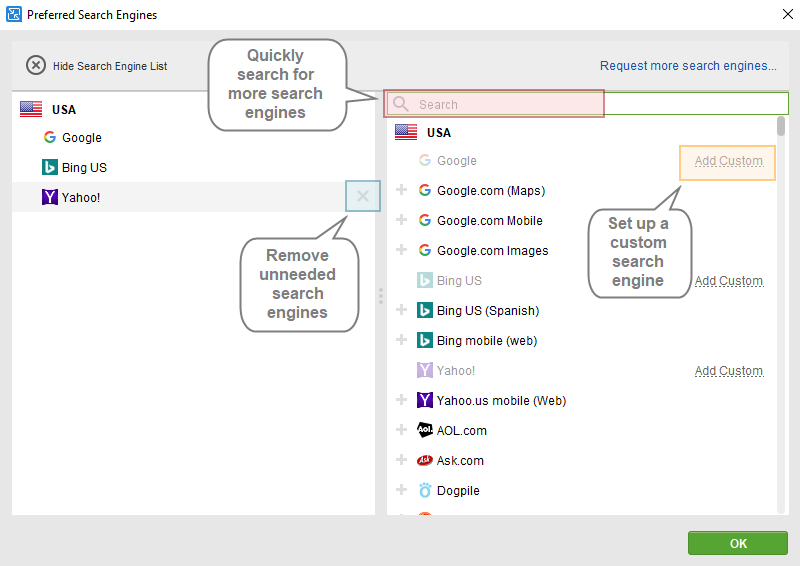 Hit the Add Custom button to specify a preferred location as well as a short name (optional) for your search engine. Make sure you do not modify any other fields.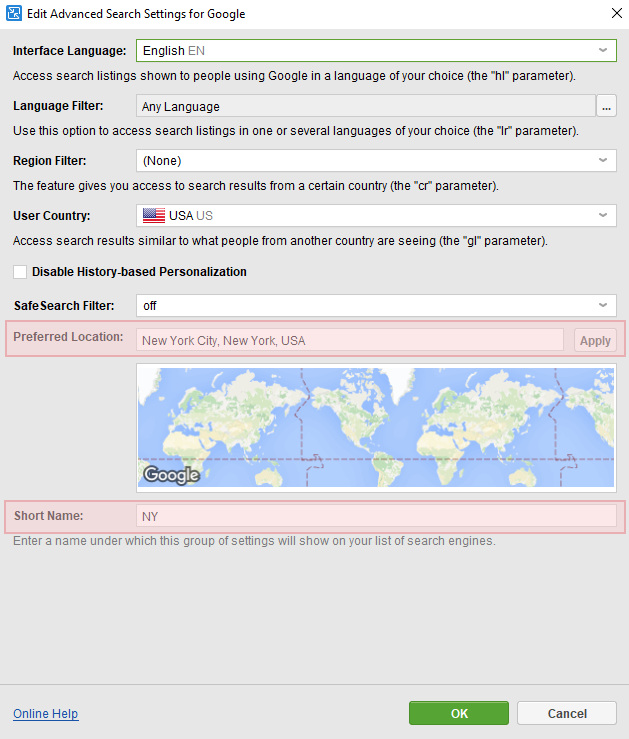 Once you're done with setting up the search engine, you will see it on the list of preferred search engines. You may specify it for a more targeted search for link prospects.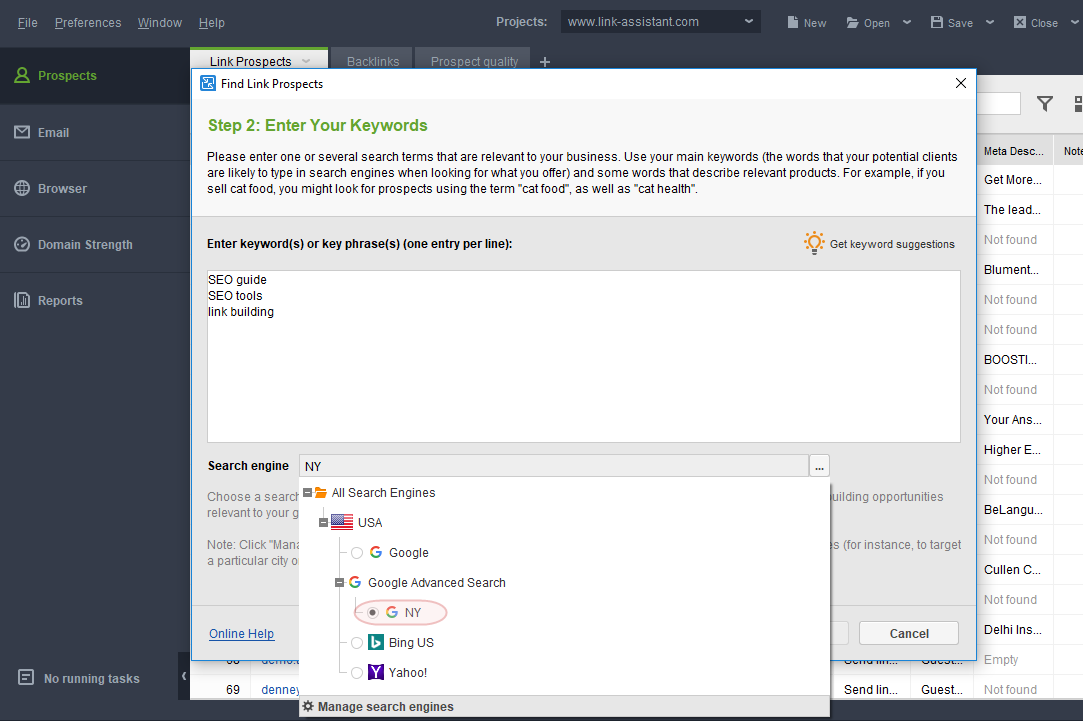 Step 3: Finish off the search
After you've assigned status and tags to the prospects you're about to gain (this is optional), configure additional information like the type of prospects data you'd like to get. Complete the search setup and hit Finish - the program will start collecting prospects according to the specified criteria. To track search progress, check Task Manager. You may also pause or stop the search if needed.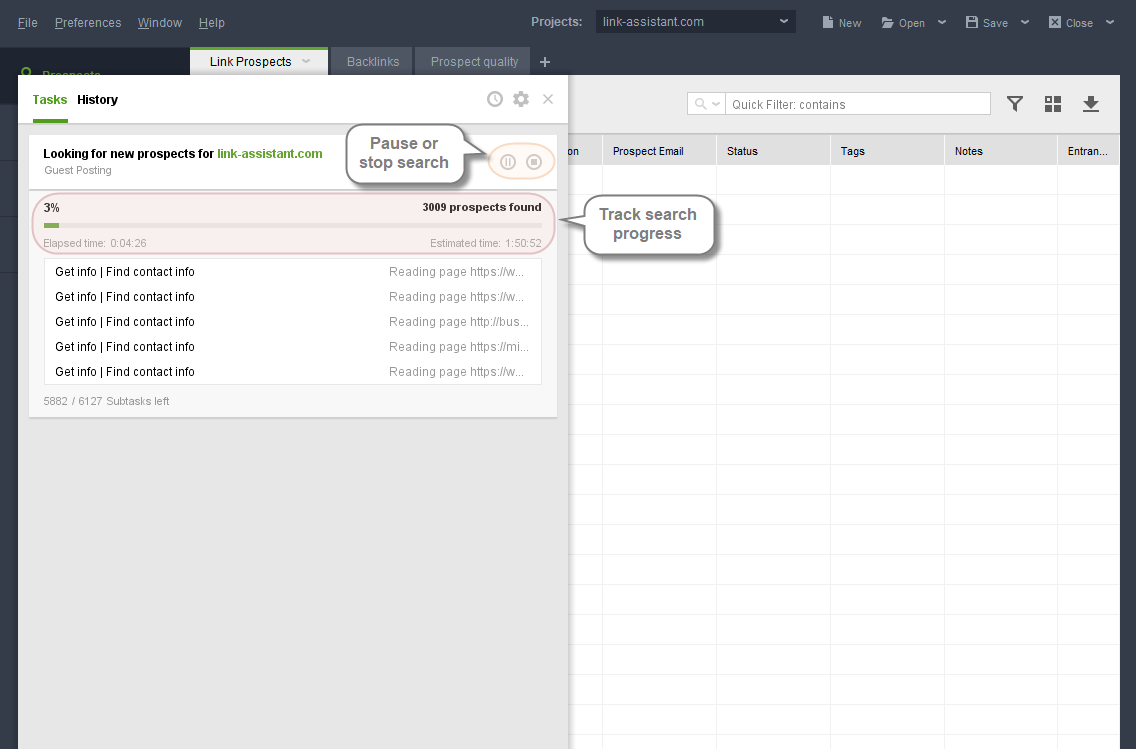 Once done, you'll have a list of prospects to consider: go through the records and see whether any of them stand out.
Bonus search method
To further expand the list of link prospects, you may want to take a look at the sites of the prospects already on the list, and fetch valuable URLs to complement your prospect database from there. Jump to Browser and type in the web address of any of the prospects identified by the software - you will then see the option to Harvest URLs. Specify the data you'd like to collect and assign tags for easy navigation.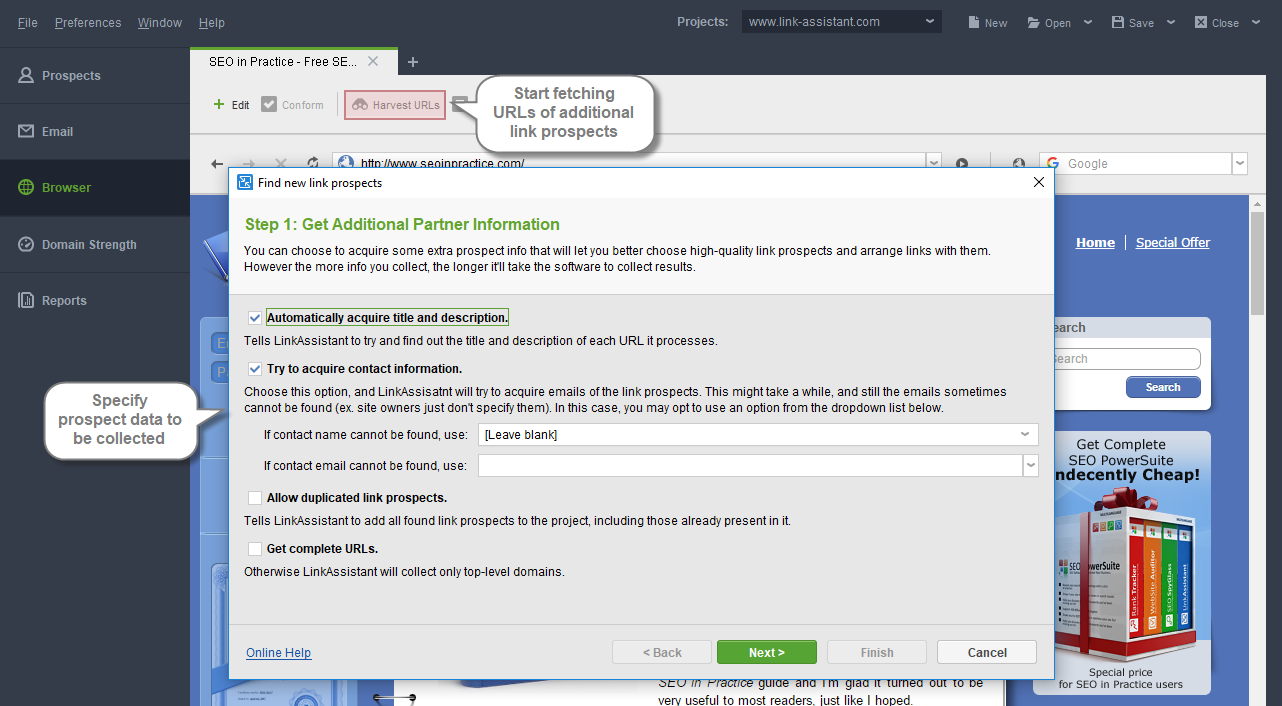 As soon as the URLs are harvested, you'll see the list of prospects expand by a number of domains - these are the URLs collected on the page you just browsed.
While navigating the pool of link prospects, you may want to add or remove some manually. Use the Add button to insert URLs of potential backlinks sources you'd like to add to your project. Likewise, remove the records you don't find useful: right-click on any of the prospects on the list to remove the link partner. Note that the deleted prospects' domains are automatically moved to the Excluded Prospects list available under Preferences - Prospect Management - Excluded Prospects Domains. Here you can maintain a list of domains that shouldn't be suggested by LinkAssistant in the future.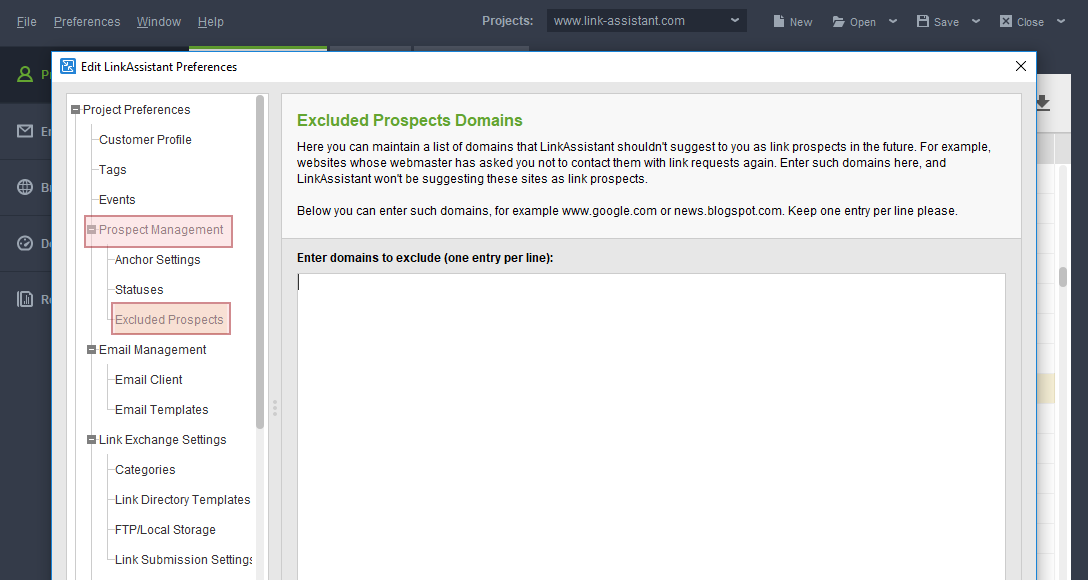 Keep in mind that as long as you have prospects on the list of excluded domains, they won't be identified when looking for prospects - nor will you be able to add them manually without creating a duplicate.
Remember that you can Save the project, Close it without saving or click New to create another project.