Application layout
The Menu bar
The Menu bar offers a set of drop-down menus that give access to Rank Tracker settings and project preferences:
File: (basic commands related to project files: opening, closing, saving etc.).
Preferences: access to the general project and global software settings. There you may configure your preferred search engines, select rank checking mode, set up a scheduled task etc.
Window: list of supported software shortcuts and key combinations to switch between sections or quickly access some menus.
Help: contains your Rank Tracker license info, links to help resources.
New: create a new project.
Open: load an existing project from your hard drive or from SEO PowerSuite Cloud.
Save: save open projects.
Close: exit open projects.
Check All: check rankings in all open projects.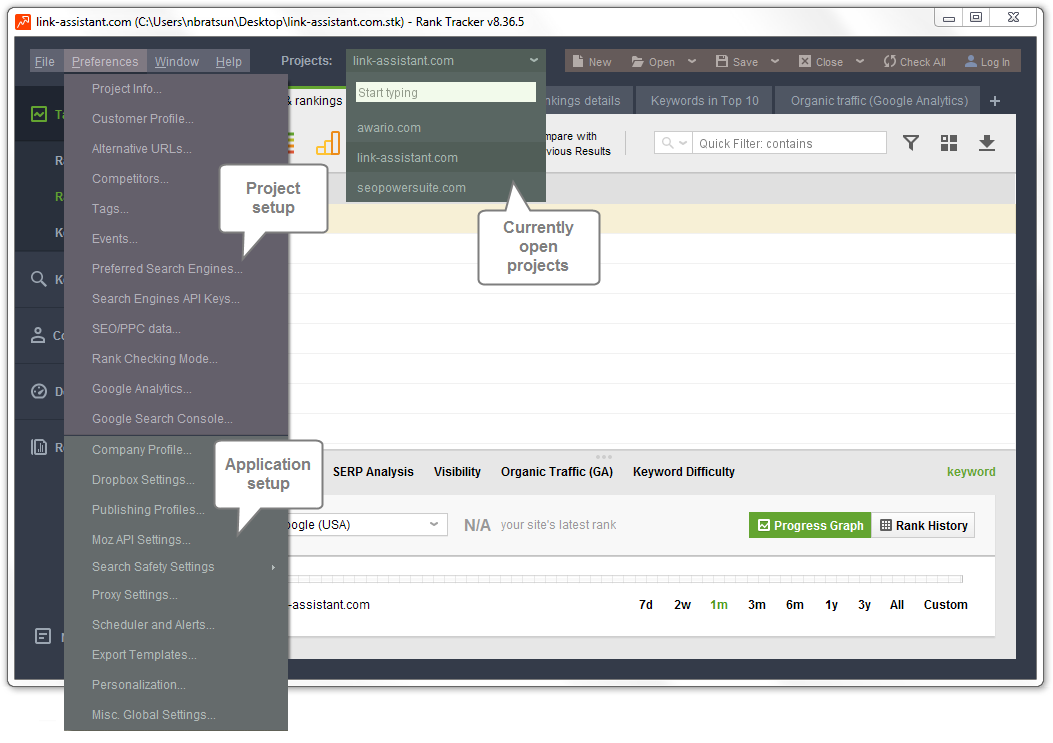 The Main Workspace displays all your project information, such as your list of keywords, keyword rankings and ranking history, reports, new keyword ideas and all other project data that has been collected and stored by Rank Tracker.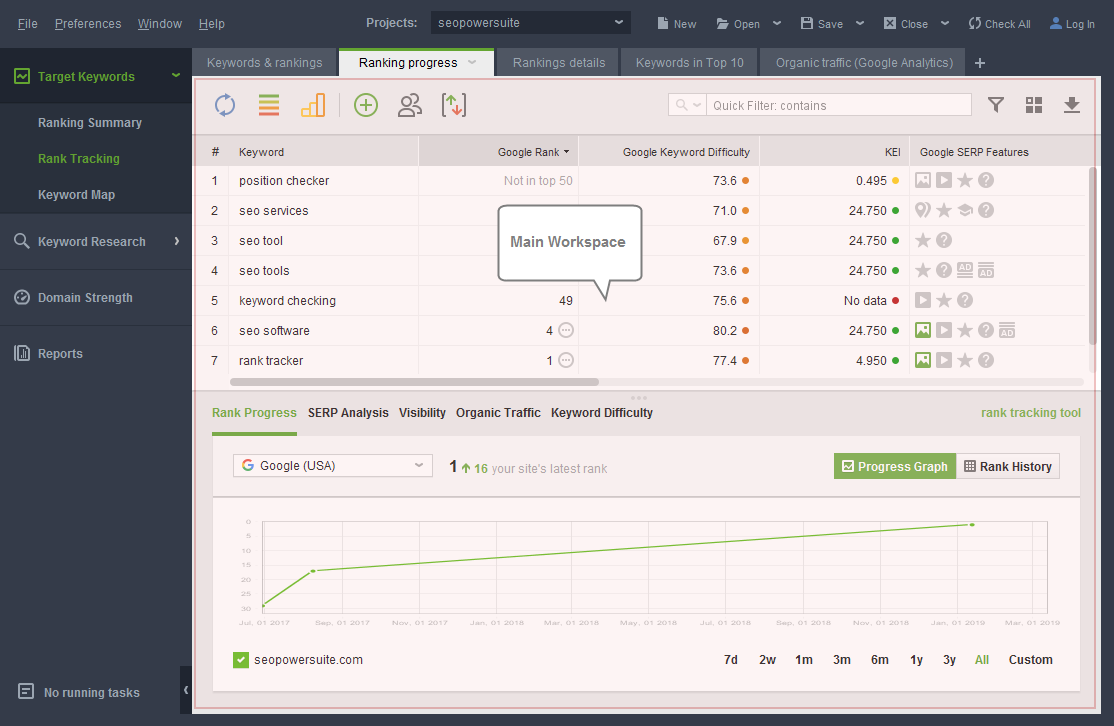 The side menu
The Side menu allows you quickly switch between different project sections:
Target Keywords: this section contains the list of your target keywords as well as their ranking history, traffic stats, KEI, keyword difficulty and other metrics that you may need to update in your project on regular basis.
Keyword Research: here you may search for new keywords and get keyword ideas using almost 20 different keyword suggestion tools. The section also lets you arrange new keywords into various groups and move them to the Target Keywords section.
Domain Strength: a general domain report that shows how your website's "strength" grows over time
Reports: generate and deliver reports to your clients.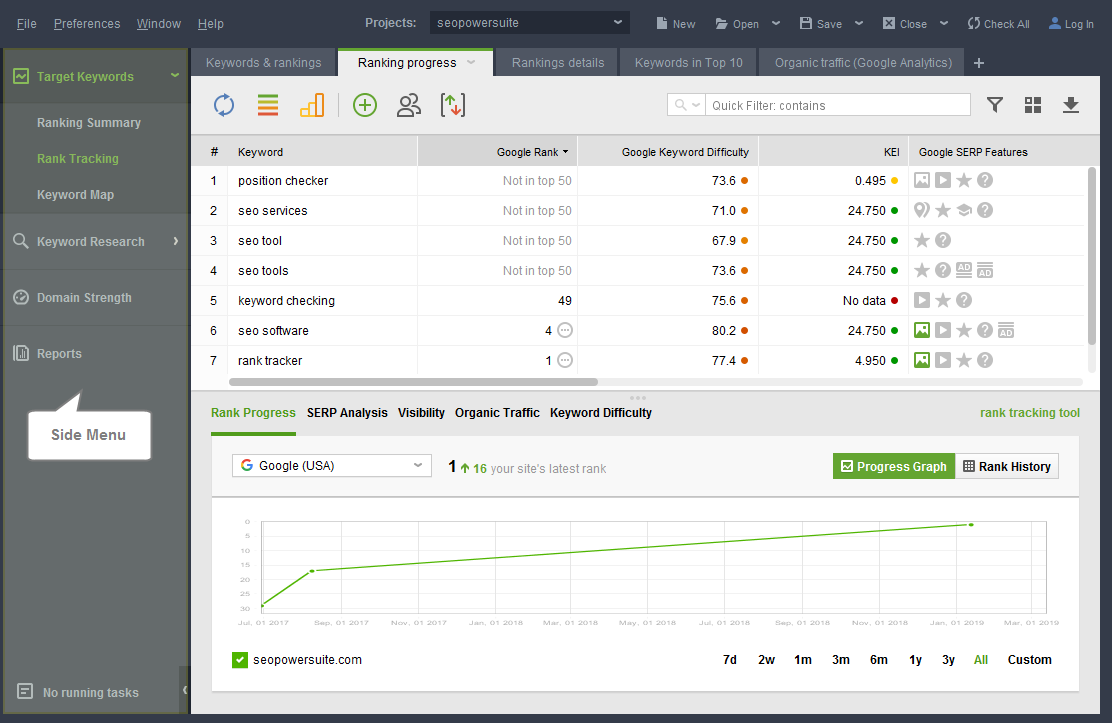 Buttons and controls
Target Keywords section
Check Rankings: update keywords rankings.
Update SEO/PPC Data: check #of searches, competition and PPC factors.
Update Traffic: check traffic stats and get estimated traffic values for your website.
Add Keywords: add new keywords to your project.
Show Competitors: display competition rankings together with your rankings in the workspace.
Compare With: select the time period that your last ranking results will be compared to.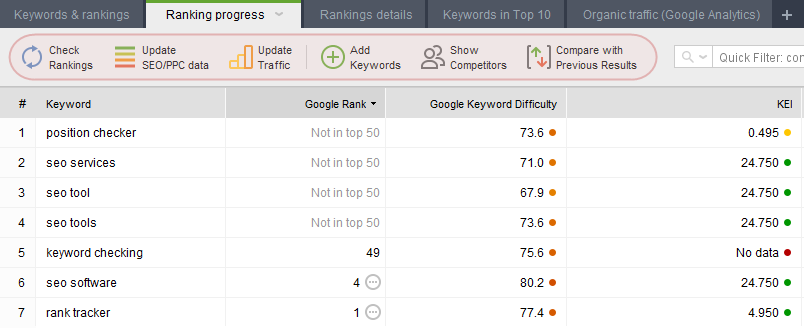 Keyword Map section
Update Keyword Difficulty: check the Keyword Difficulty factor for the selected keywords.
Move to Another Keyword Group: you may combine keywords in different categories and easily move words from one group to another one to build your semantic core.
Assign Keywords to Landing pages: you may associate project keywords with a specific landing page. In case the real ranking page does not match the assigned URL - Rank Tracker will automatically highlight such keywords in your main project workspace.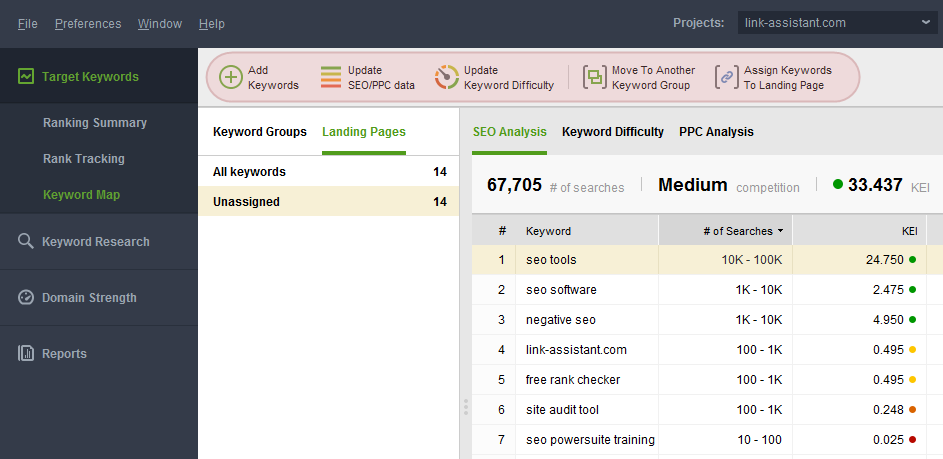 ---
Next steps: