Link Exchange
LinkAssistant features multiple methods for arranging link exchange between you and your potential prospects, as well as handy ways to keep track of such complex activities.
Link Directory
Link exchange through Link Directories is basically an agreement between two website owners to place a link on their own website to each other's site. Unless the links are excessive, manipulative or lead to bad neighborhoods on the web, a neat Link Directory may help you share useful references with your visitors, as well as be a show of partnership with relevant trustworthy resources.
Before you send any reciprocal link requests to your potential link partners you need to set up and upload your Link Directory page. LinkAssistant allows doing that in a few simple steps.
Setting up Link Directory page
First off, you'll need to create a template for your links page; to create one, go to 'Preferences > Link Exchange Settings > Link Directory Templates' and click Add.
In Step 1, you'll be asked to choose Template Type (we commonly recommend to stick with the default option to generate a tree-like template).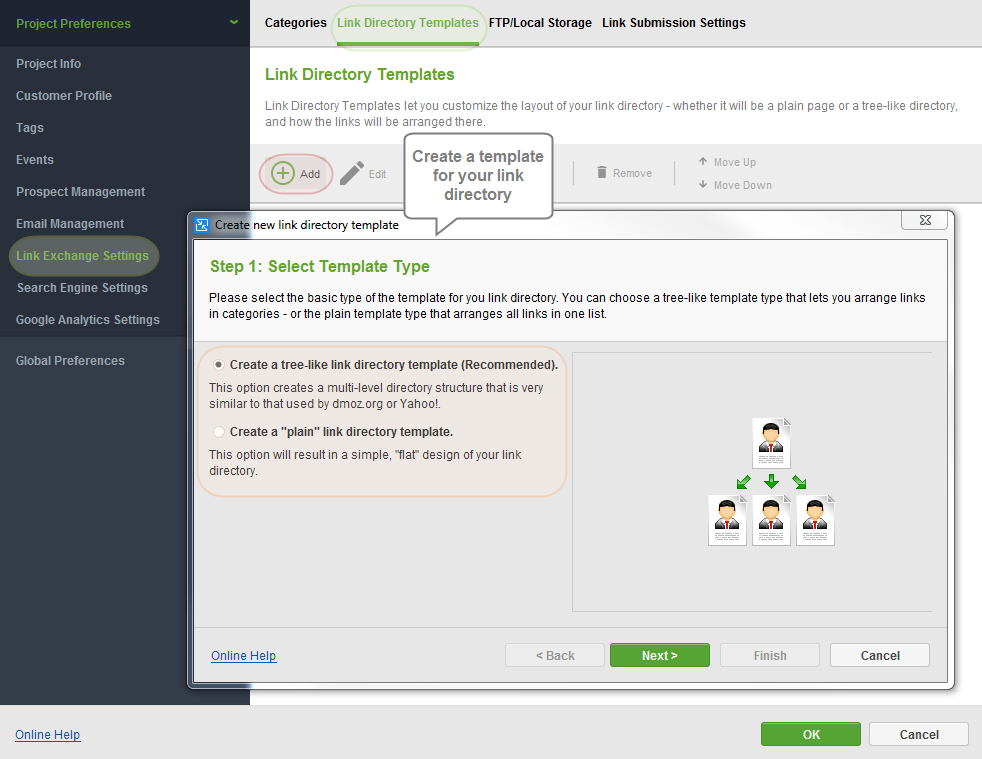 In Step 2, you'll need to choose whether you'd like to include Link Submission Form in your directory page, adjust layout settings (refer to the preview on the right) and decide on the anti-spam protection with CAPTCHA.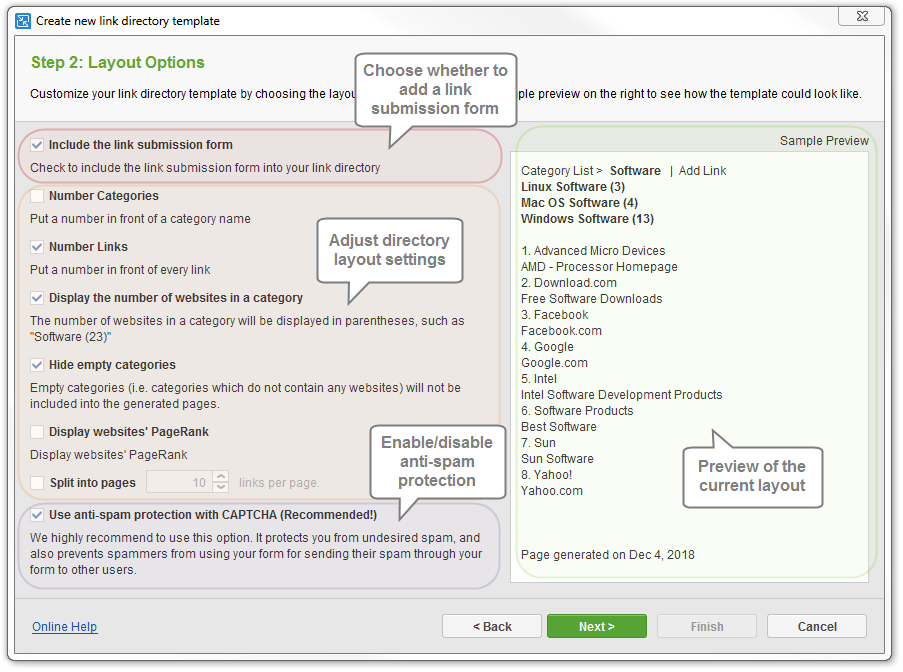 In Step 3 you'll need to open any page you'd like to use as a base and select the area on it that should be replaced by Link Directory. You can use a page of your site, or enter any page URL in the inbuilt browser to use it for the template. We recommend to carefully select the area and avoid bold or italicized text withing selection to prevent any layout glitches.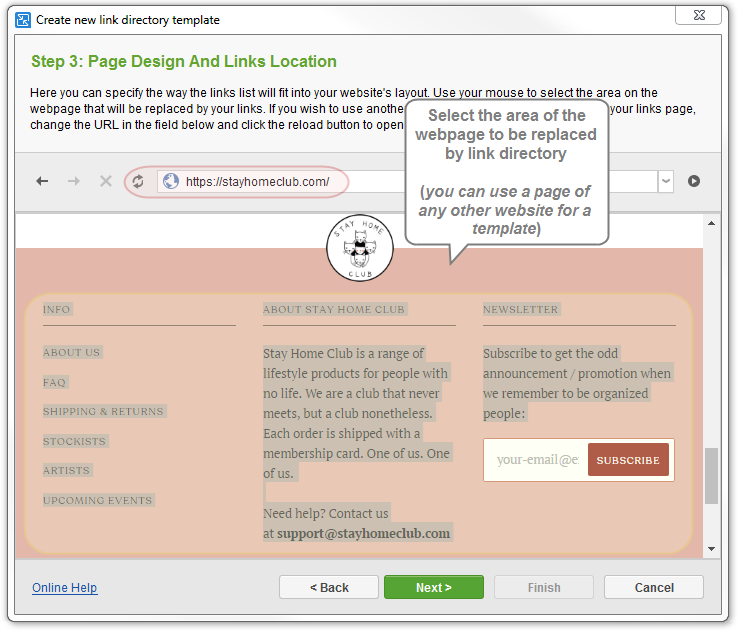 In Step 4 you'll see the preview of how your links page will look like. If you're not satisfied with the outcome, you can go Back and try using any other page or select another area. Once you are satisfied with how the page looks, click Finish to save the template.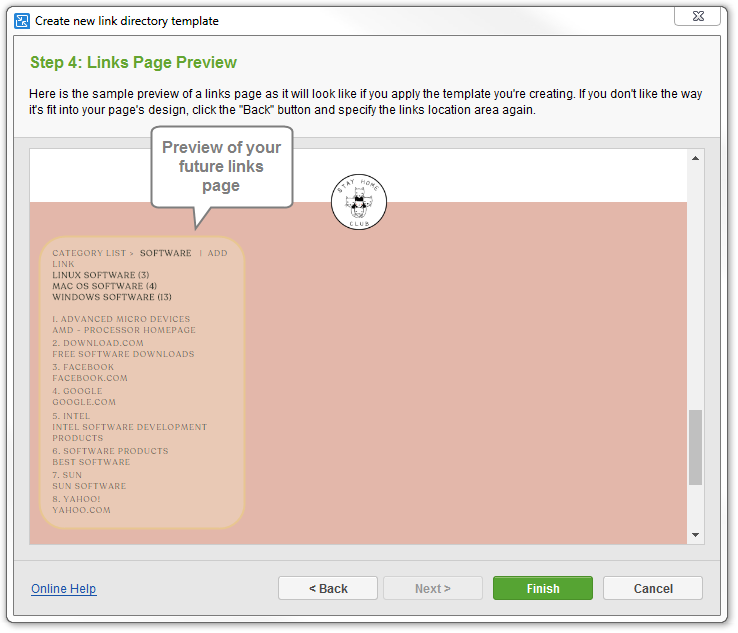 Link exchange settings
Under 'Preferences > Link Exchange Settings' you can find several sections:
In the Categories section, you can find the list of categories to be displayed on your links page. You can edit/copy/clone any, add any new categories or sub-categories (by assigning a parent category).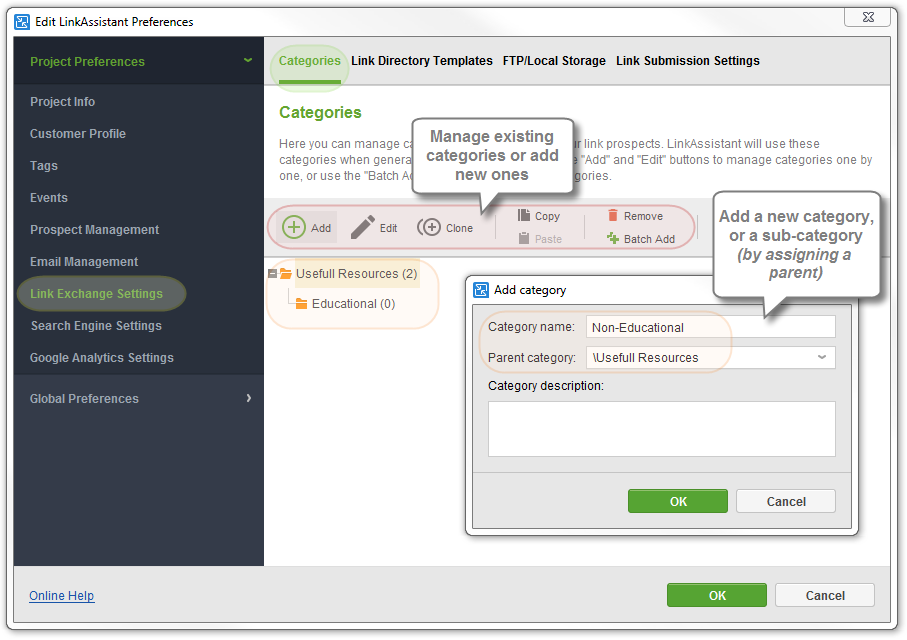 Link Directory Templates section will list all the links page templates you have created. We recommend to only create one, to avoid any human errors or data loss.
FTP/Local Storage section allows you to configure or change the settings for storing the link directory generated with LinkAssistant. Here you can fill out your FTP server settings and test connection, or choose the local folder for saving the directory page.
Adding prospects to Link Directory
To make any of your prospects appear on your future links page, you'll need to include them in Link Directory first. Given you have already pinpointed the prospects to be included, simply select them in your workspace and right-click on selection > choose Link Exchange > Include In Link Directory.
The respective column will show whether any prospect in your workspace is currently included or not. The Category column will display the assigned category/sub-category on the links page that the prospect should be placed under (you can change it too, through right-click > Link Exchange > Category)

To finally generate your Link Directory or update it after including/excluding any prospects, right-click on the workspace and use the option Link Exchange > Link Directory > Generate Directory (choose the existing template if you already have one). The page will be (re)generated with the current list of included prospects.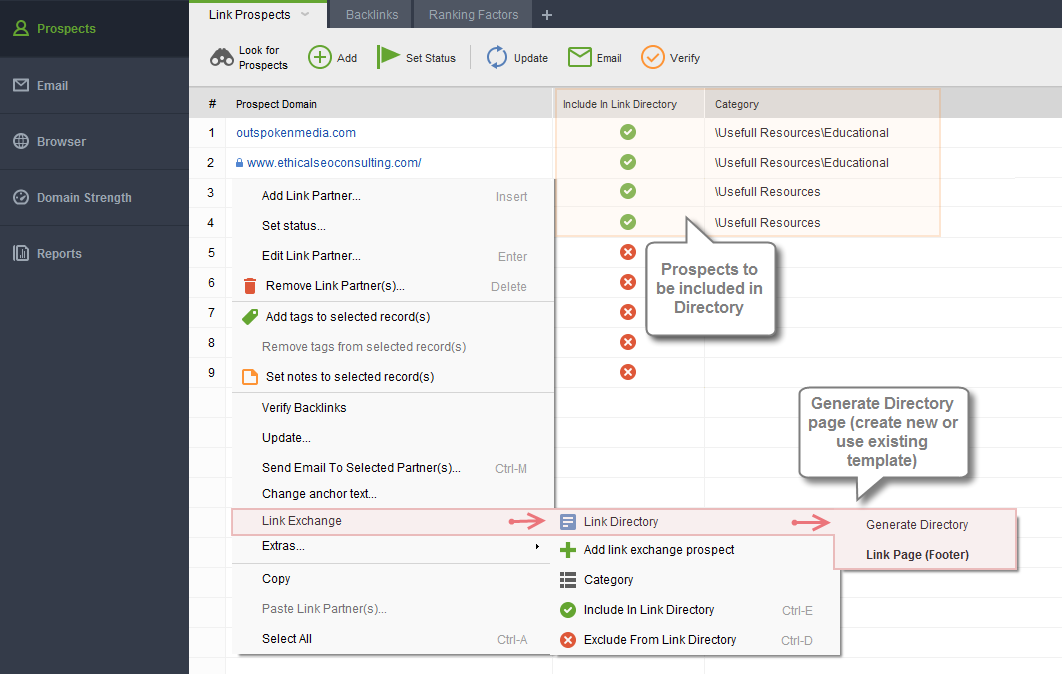 In the next step, you'll need to set up a local folder to save the page to, or connect your FTP server to upload the page.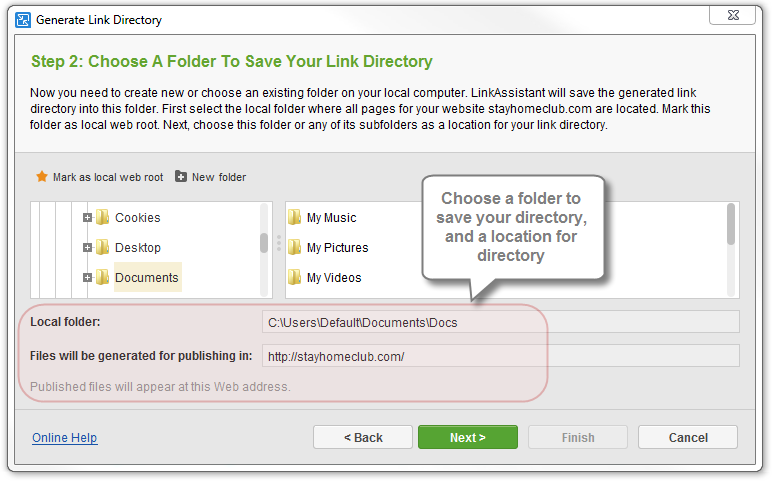 Requesting a link back to your site
Once the Link Directory is published on your site, you can start reaching out to prospects you've included, with a request to place a link back to your site.
You can sort the prospects by the column 'Include In Link Directory', select the included ones, and click Email. Then choose the corresponding template (edit it if needed from the Template Settings), and Send emails out.
The details for each prospect, including the domain and the directory link, will be substituted automatically for each email.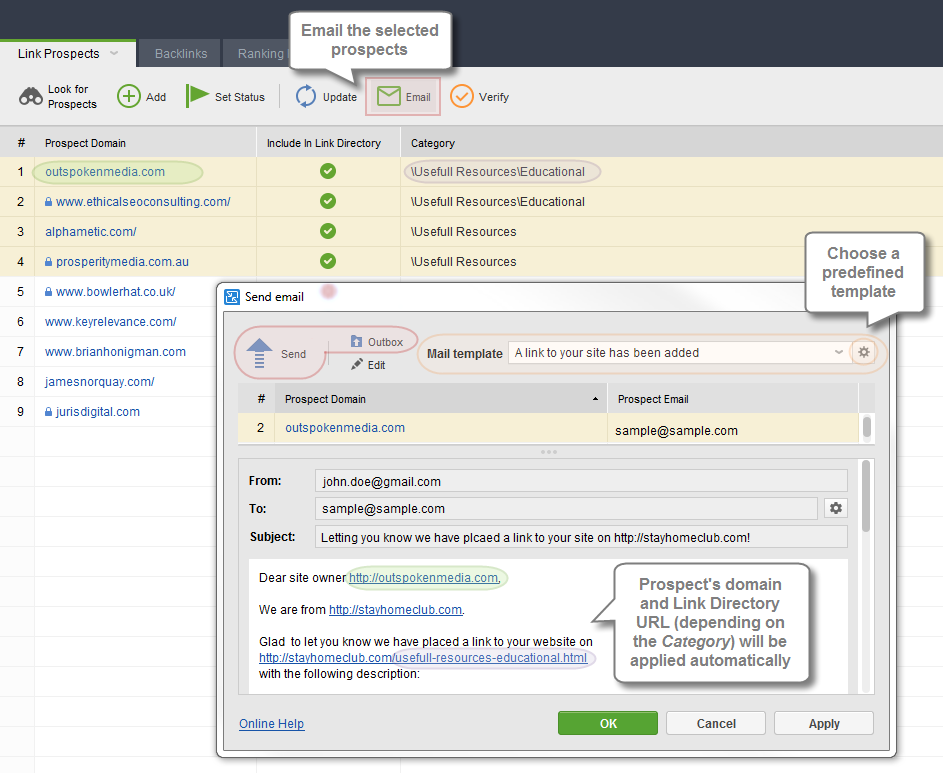 For further reference, you may want to change prospects' statuses to '1st Link Request Sent'. In case some prospects don't get back to you, you can send an extra request, or exclude the links to their websites from your directory, generate and publish it anew.
Link Submission forms
If you decide to add a Link Submission Form while creating your Link Directory template, it will feature a form that any visitor can fill out. It will include a copy-paste piece of code to link back to you, a bunch of fields to specify how the reciprocal link should look like, anti-spam captcha protection step (if enabled) and the Submit button.
​​​​​​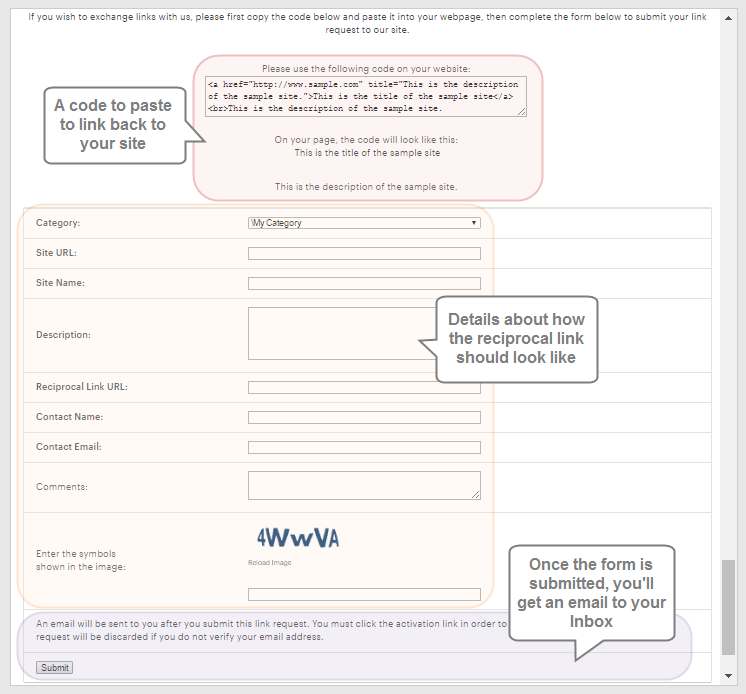 Once the form is submitted by anyone, you'll receive an email with the details. Then you can verify whether the link to your site is added properly, and consider including the sender in your Link Directory.
Filling out Link Submission forms
If, in turn, you have a list of Link Submission forms you'd like to fill out, you can add the list of URLs to your LinkAssistant project, then right-click on any > Open with internal browser.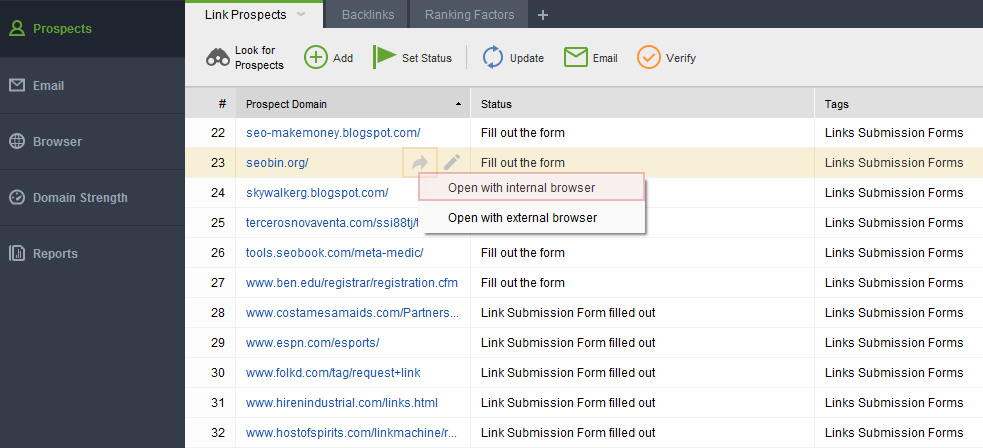 Right in your project, you can fill out the forms in the inbuilt browser, or, in case the platform it's built on is supported by LinkAssistant, you can use the button to automatically Fill out the forms. To use the option, you need to enter or generate a password that LinkAssistant will use to fill out such forms, under 'Preferences > Link Exchange Settings > Link Submission Forms'.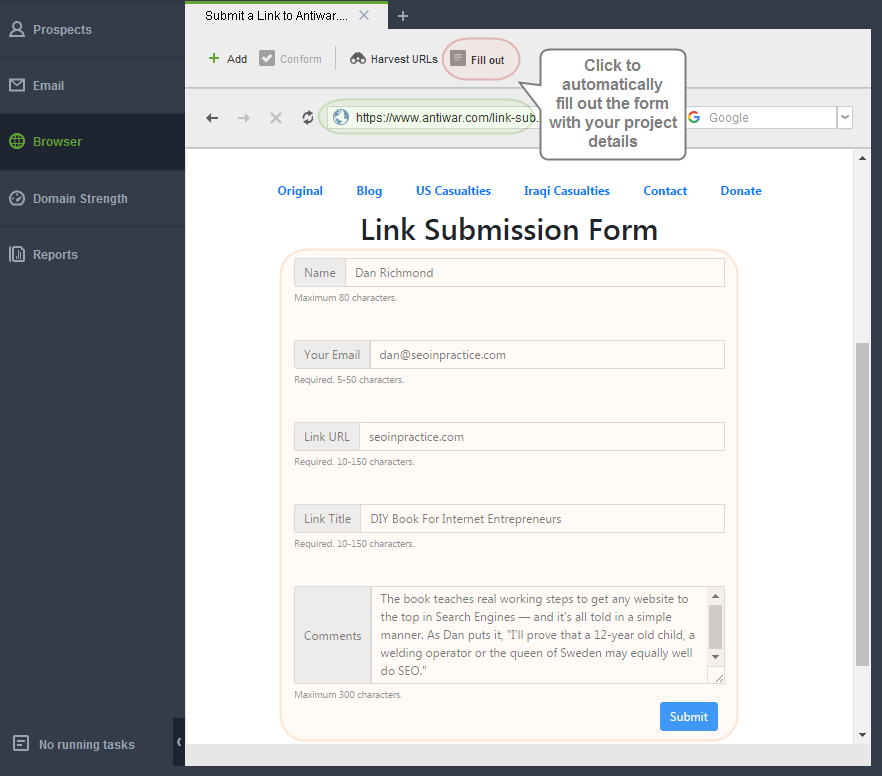 Once you've specified your password LinkAssistant will automatically complete the form based on your project information. All that's left for you to do is click the submit button and, in some cases, enter a captcha (if any).
3 Way (Wheel) Link Exchange
3-way linking (also known as ABC or Wheel linking), is a little more sophisticated way to set up link exchanges. The benefit of this method is that it doesn't look as manipulative and unnatural to search engines as direct link exchange between two sites.
The core idea is that partners that own multiple websites may avoid direct reciprocal linking (from site A to site B, from site B to site A in return), exchanging the links indirectly instead (your site A links to partner's site B, partner's site C links to your side D). There are endless possible combinations depending on the number of involved websites, still, it's crucial to avoid linking to or getting links from completely irrelevant or poor-quality websites.
LinkAssistant allows you to manage such link exchanges: monitor the links and verify that they are in place and the anchor details are as designed, even in case your partner is linking to you from the site other than specified as Prospect Domain in your project, or in case the link points to your site other than your Project Domain.
In your project, you can edit any prospect (on-hover or with double-click) and switch to Backlink tab. In the Backlink Page field, you can specify the desired Backlink Page URL, not necessarily the one that belongs to Prospect Website. This would be considered the page from which the prospect should link to you.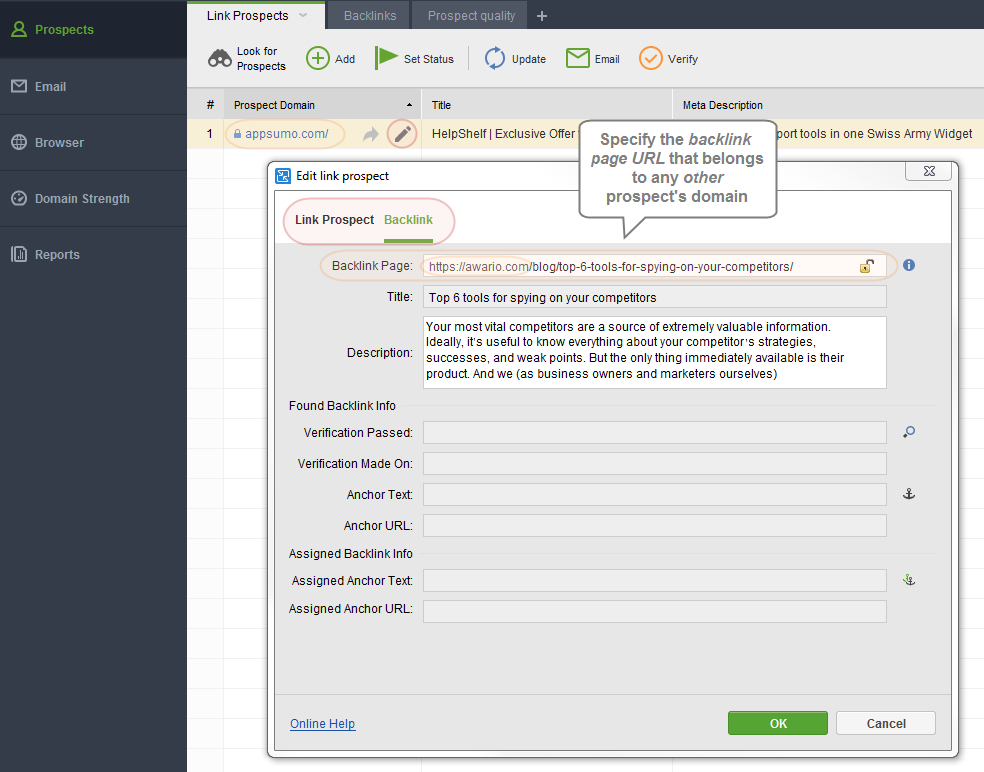 Next, click on the Anchor icon in the Assigned Backlink Info section, and create a new Anchor Settings template. Enter the desired Anchor URL, not necessarily the one that belongs to Project Domain, and Anchor Text. Those would be considered the correct Linked Page details.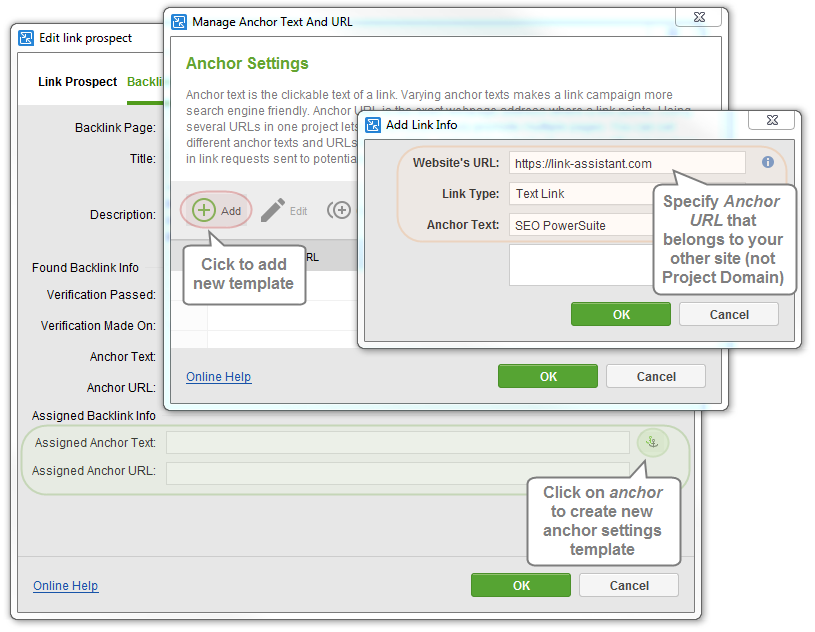 Once the details are all set up, you can start monitoring the link. To verify its presence and details, click on the magnifier icon in Prospects Settings, or use the Verify button to check multiple prospects.
LinkAssistant will check if there's a valid link on the page from Backlink Page filed that points to the page from Assigned Anchor URL with the Assigned Anchor Text, and you won't need to create a set of projects to monitor such an exchange involving multiple websites.