Track your competitors' rankings
Rank Tracker lets you manage up to 10 additional sites within a single project. We'll refer to all of these sites as 'competitors', though these may be both competitors' sites, and sites or sections of a site belonging to the same person/company.
Adding competitors
To enable competition tracking, create a project for the website you are primarily focused on. After that, in 'Preferences > Competitors' menu you can click to Add or Suggest competitors, and manage the existing ones: Edit, Remove or Disable (temporarily stop tracking the competitor without removing it).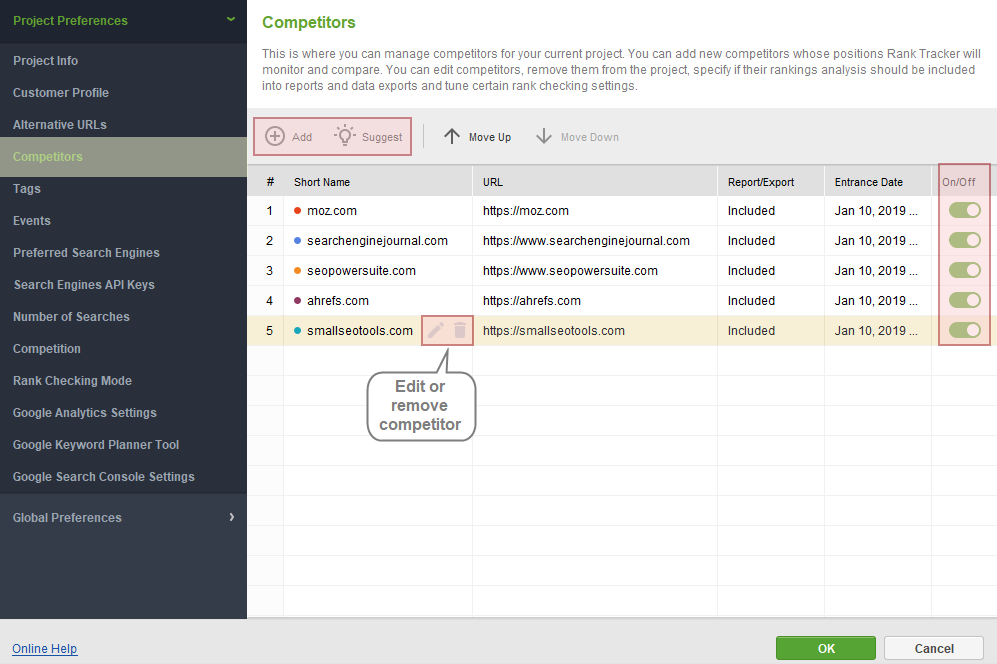 If you click Add, the wizard will ask you to enter the site URL, assign a short name to the competitor, optionally select a color label, and adjust the reporting and rank checking settings for it.
If you Edit any competitor later, you'll be able to change the settings, the short name and color label.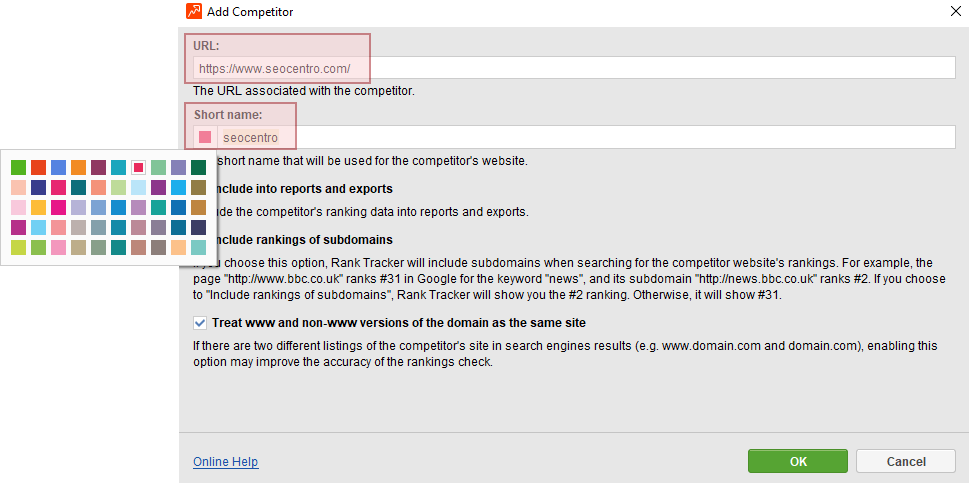 If you click the Suggest button, the wizard will ask you to enter some target keywords to find the top competitors for. Optionally, you can change the target search engine.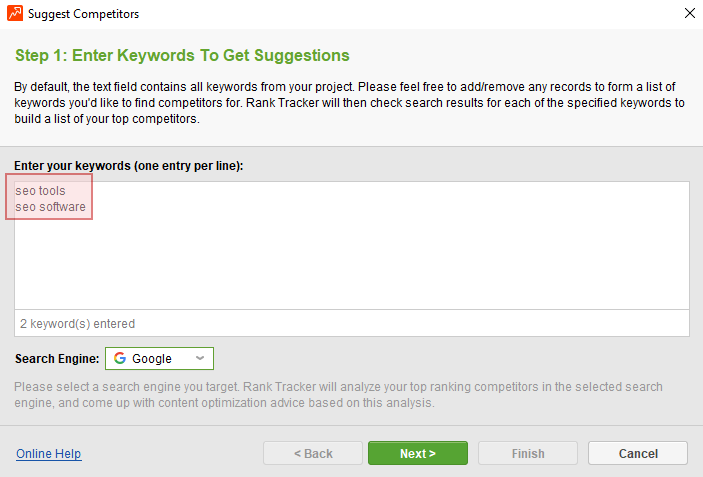 In the next step, Rank Tracker will run through the results for the keywords you've entered, and in step 3 will offer you the list of found competitors, where you can select up to 10 sites of your choice.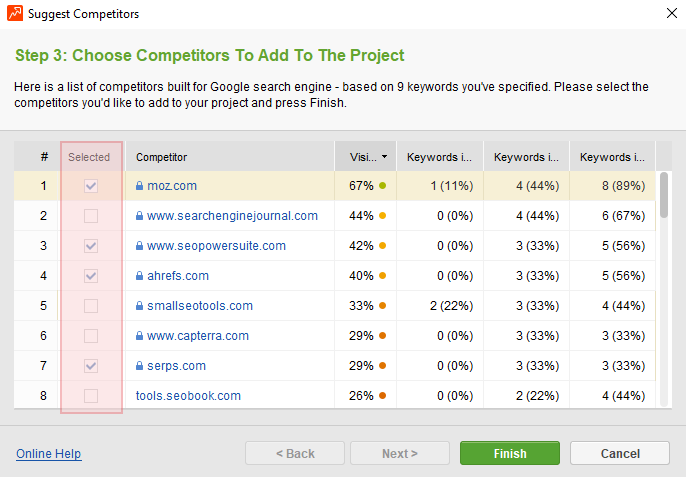 Viewing competitors' rankings in your workspace
Once the competitors are added to your project, check the rankings for your keywords anew. You'll see the competitors' positions next to your site's rankings, in the SE Rank columns (and the ranking pages in the SE URL Found columns).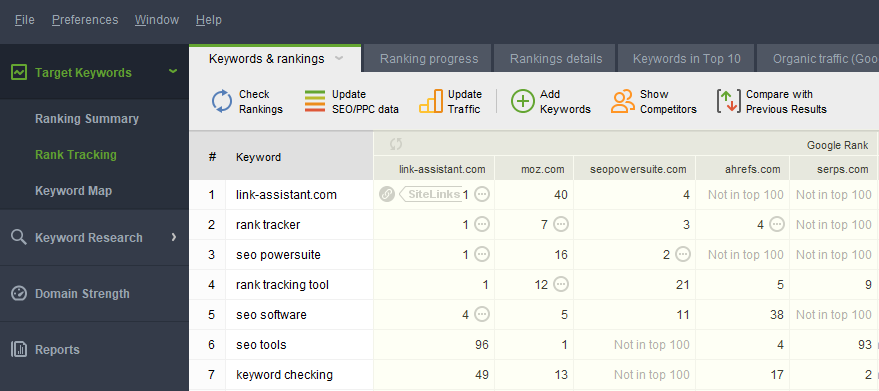 Click the Show Competitors button to adjust the list of competitors displayed in your workspace along with the main website. This will only affect the workspace view; if you'd like to disable competitors, click to Manage Competitors at the bottom.
In the bottom tab, under Rank Progress > Progress Graph you can tick the checkbox next to any of the enabled competitors so that their progress would be displayed on the graph.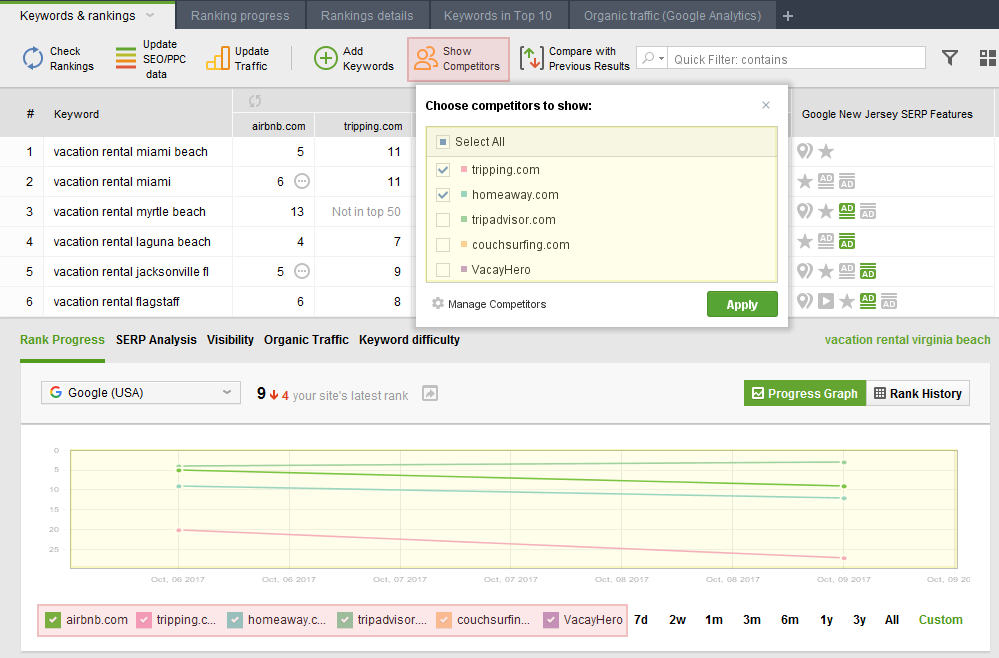 ---
Next steps: