Page Audit
Before you start optimizing a landing page for your target keywords, you'll need to determine how well it is optimized at the moment, and which specific on-page and technical aspects you should focus on in the first place.
To audit a page, go to Content Analysis > Page Audit. If you haven't analyzed any pages yet, the wizard will pop up automatically, otherwise you can click the + Add Page button.
Step 1: select a page you'd like to analyze, and make sure it has a 200 Successful status code: pages with redirects cannot be analyzed as their content is not available.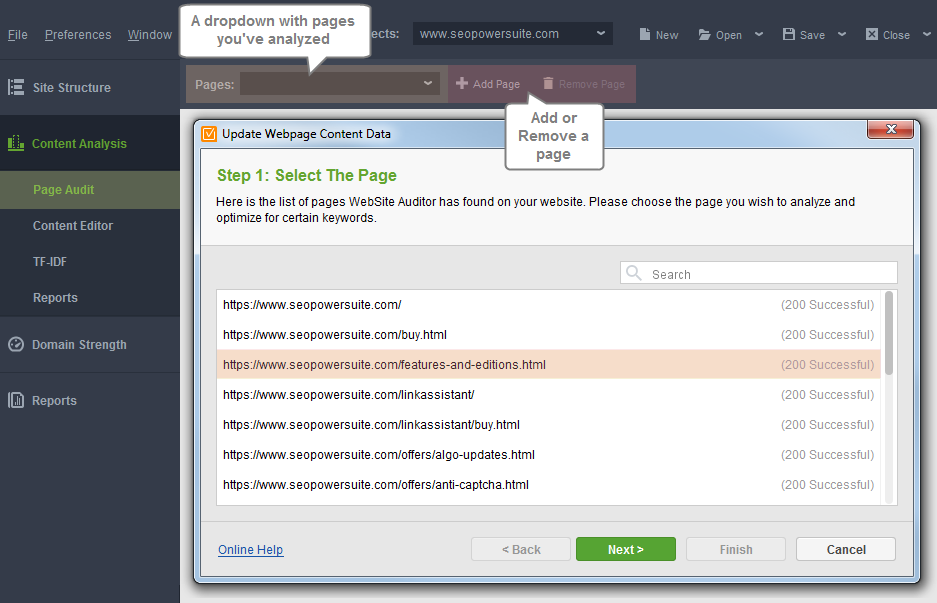 In Step 2 you'll need to enter your target keywords to analyze the page for, and select the search engine to get competitors from.
Hit Finish, and the program will start analyzing your page and competitors pages.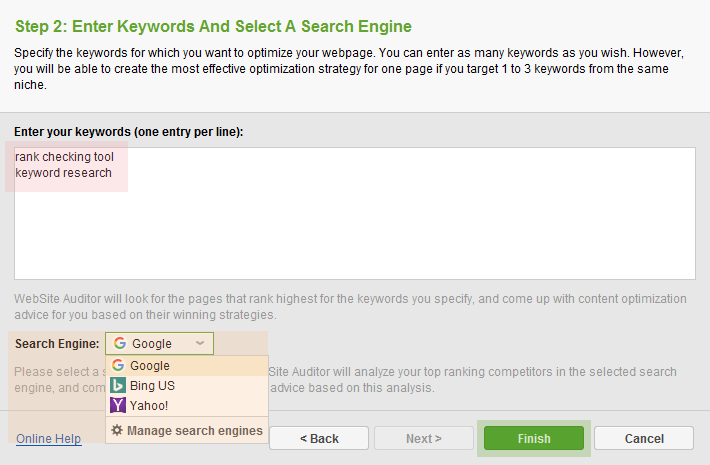 Page Audit dashboard looks much like Site Audit - you see SEO factors divided into On-Page and Technical sections. Each factor has a status (correct, info, warning or error), with the overall optimization rate and stats at the top.
Errors should be fixed right away, warnings should be attended and fixed if applicable, info factors should be revised.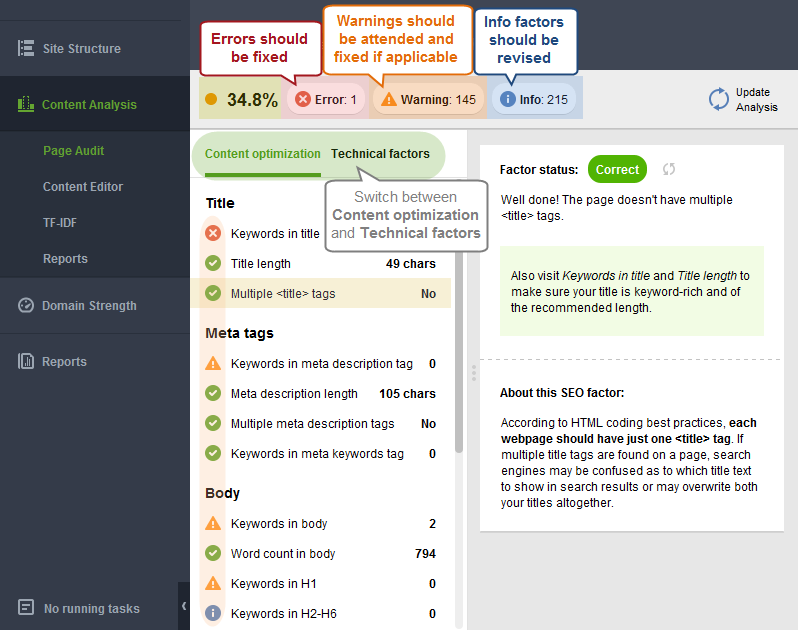 Technical factors section covers the page availability, encoding factors, URLs and Links, and lets you check how well a page is optimized in terms of load speed and mobile usability.
Click on any factor and check the section on the right to see the list of pages/resources affected, the meaning of the factor and tips/recommendations on how to fix.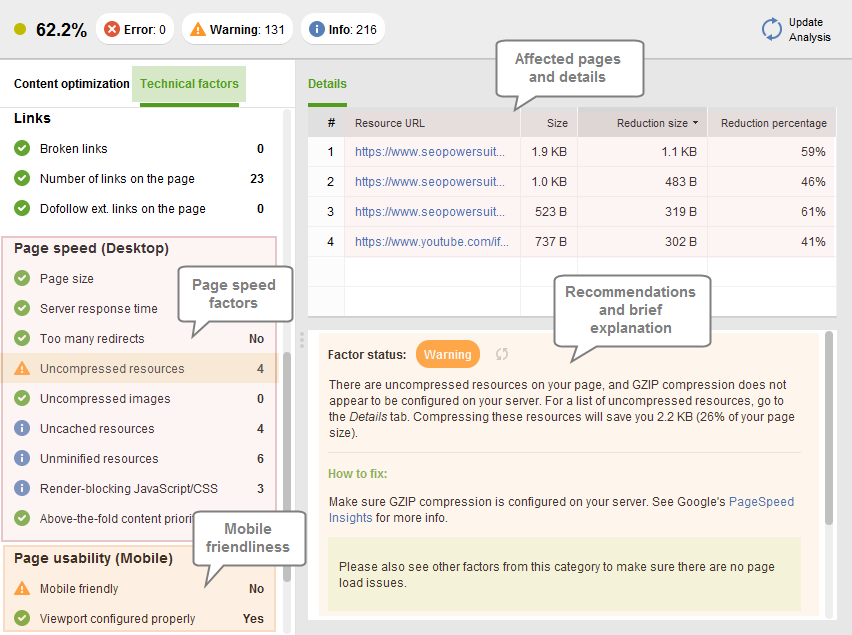 The Content Optimization section provides all kinds of stats on keyword usage by page element.
Clicking on any factor will instantly provide the details: the keywords usage stats, optimization advice based on the competition analysis, brief explanation of each factor and other actionable tips.
WebSite Auditor analyzes the page using a semantic algorithm, much like Google would do, so it may treat really similar keywords, phrases or word forms as same. It also allows a certain gap between words in a phrase (up to 140 characters). This means that if you enter several semantically similar keywords for page analysis - the program may treat the same word on a page as an instance of each target keyword.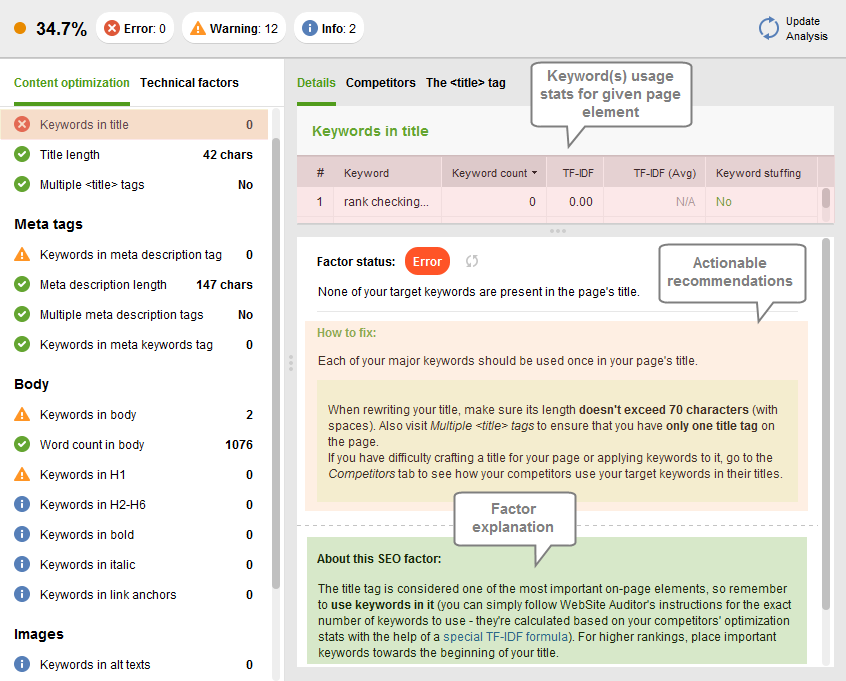 In the right-hand section with details you can switch between the tabs to see the tag itself found on your page, and the stats for competitors' pages analyzed by the program.
Competitors section will show target keywords you've entered and usage statistics for top competing pages: min, max and average. Competitors' URLs will be listed below along with specific scores for each.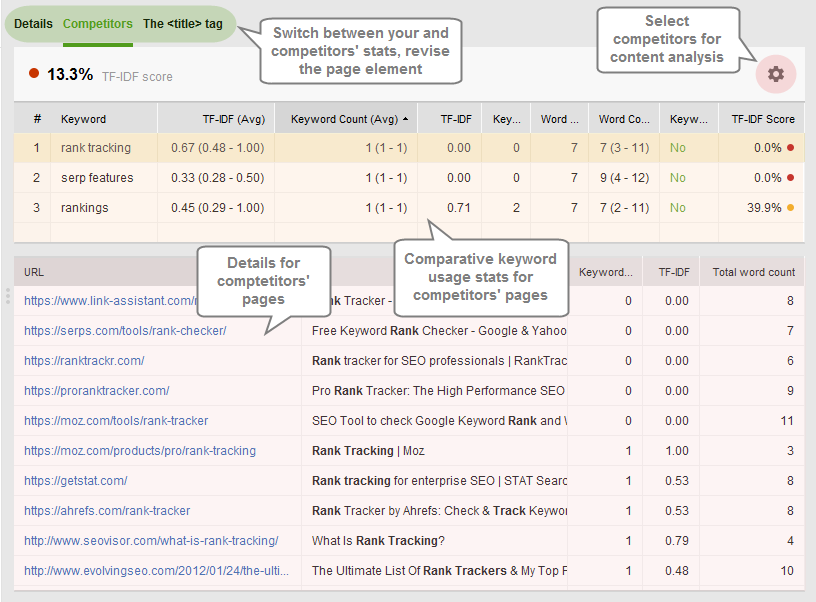 By default, WebSite Auditor will collect top 20 rankings pages for each target keyword, and provide the comparative analysis based on the 10 most optimized pages. However, you can adjust the list of competitors manually, and select the 10 top ranking ones, for instance.
To do so, click the configuration icon in the Competitors tab, sort the competitors by rank or optimization rate and select up to 10 of your choice. The stats will be re-calculated based on the selected competitors automatically once you click OK.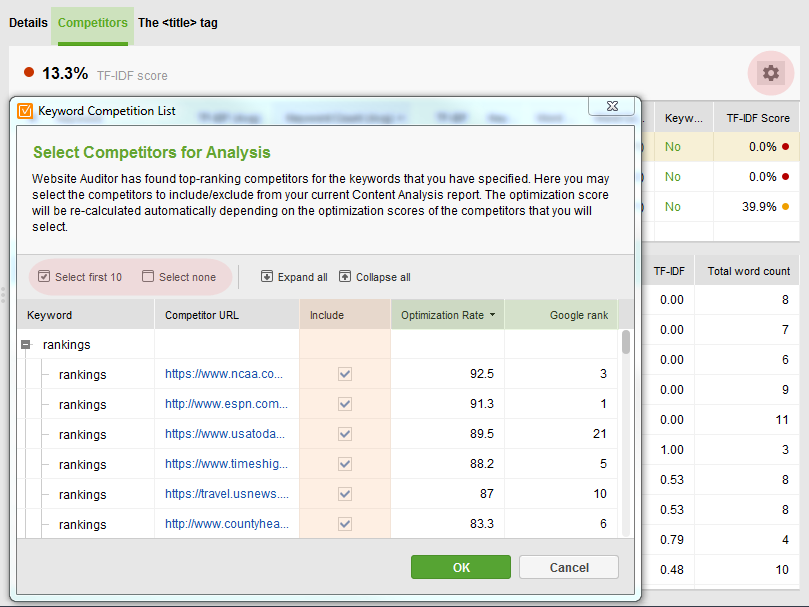 Once you fix any errors, apply any changes or simply need to analyze a page against some other target keywords and competitors, you can Update Analysis using the corresponding button at the top right.
Your page: content optimization > will re-scan your page's content and update all keyword usage stats without re-checking tech factors or changing keywords and competitors list.
Your page: content optimization and technical factors > will re-scan your page to update keyword usage stats and technical factors without changing keywords and competitors list.
Your page and competitors' pages > will re-scan your page and competitors' pages. In Step 2 you can edit the list of target keywords.