WebSite Auditor: Application Layout
The Title Bar
When you launch Website Auditor, you will see the Title bar in the upper-left corner. Here's the information the title bar carries:
the domain name of the currently open project (if applicable);
the name, extension (.wsa) and location of the file on your computer (for saved projects);
application name and version number.

The Menu Bar
The Menu bar offers a set of drop-down menus that give access to WebSite Auditor settings and project preferences:
File: (basic commands related to project files: opening, closing, saving etc.).
Preferences: access to general project and global software settings. There you may configure crawler settings, preferred search engines, sitemap and robots settings, set up a scheduled task etc.
Window: list of supported software shortcuts and key combinations to switch between sections or quickly access some menus.
Help: contains your WebSite Auditor license info, links to help resources.
Projects: a drop-down to switch between currently open projects.
New: create a new project.
Open: load an existing project from your hard drive or from SEO PowerSuite Cloud.
Save: save currently open projects.
Close: close currently open projects.

The Side Menu
The Side menu allows you quickly switch between different modules:
Site Structure: contains the modules with all pages and all resources found on the website, a visual representation of the site structure, and an audit dashboard listing all SEO factors checked for the site.
Content Analysis: contains the modules for on-page analysis and in-app optimization, TF-IDF analysis, page-specific reports.
Domain Strength: a general domain report that shows how your website's 'strength' grows over time.
Reports: a module to generate and deliver reports to your clients.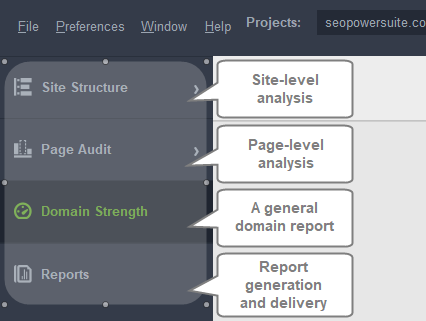 Buttons and Controls
Site Structure module
Rebuild Project: re-crawl the site completely to collect all pages and resources anew (with other crawler settings, or after fixing any errors).
Update Pages: update any specific factor(s) for selected pages.
Sitemap: create a sitemap featuring any pages from your project.
Robots.txt: create a robots.txt file and configure its rules.
Add Pages: add any pages to your project manually.
Custom Search: use custom search operators to find any piece of content on your site.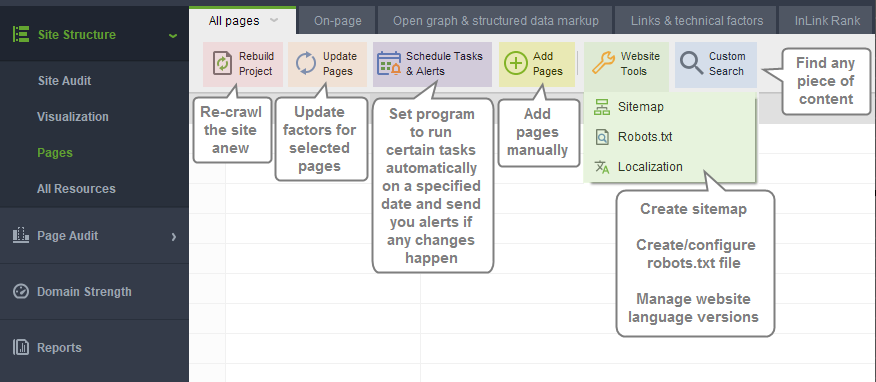 Content Analysis module
Pages: switch between analyzed pages from the current project.
Add Page: analyze a new page.
Remove Page: remove the current page from Content Analysis.
Update Analysis: update content optimization, technical factors or competitors' analysis for the current page.
Update icon: update the given factor for the current page.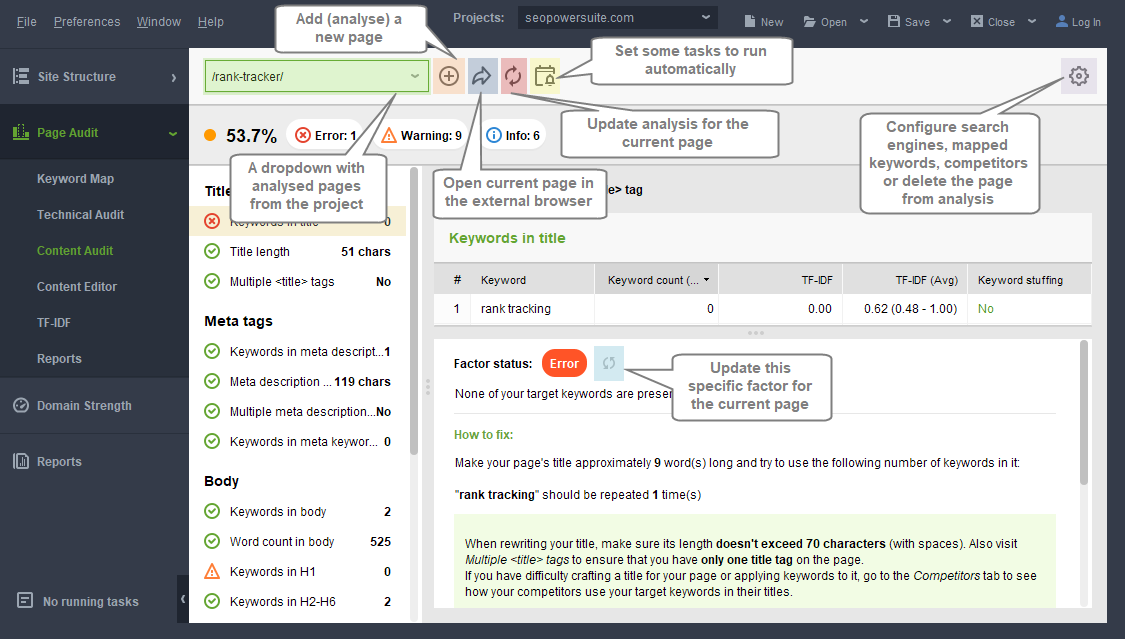 Domain Strength module
Update: update all the factors and re-calculate Domain Strength.
Cogwheel icon: configure the list of SEO factors included into the module.
Export icon: quickly export the results into CSV.

Reports module
Publish: export the report using a publishing profile (e.g. email to clients, upload to a site).
Share: share the report via a shareable link.
Quick Save: save to your hard drive (no publishing profile required).
Print: print the report.
Click the + button to create a new report template.
Click the star button to fill out your company info to brand the reports.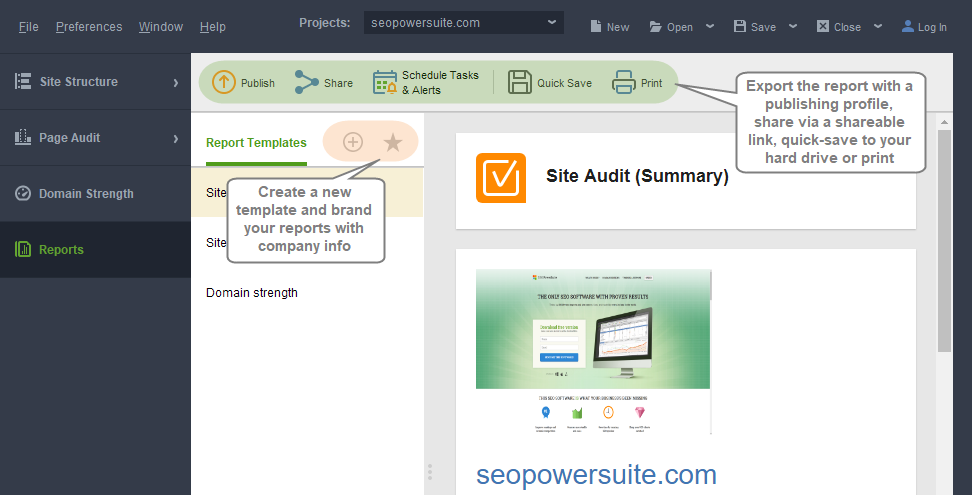 Each WebSite Auditor project contains a set of predefined workspaces under the Pages section, The workspaces contain the list of pages that have been collected by Website Auditor when scanning your website,and also a default set of columns that focus your attention on different aspects of website optimization:
On-page factors;
Links and Technical factors:
Social Media popularity;
Traffic stats;
Structured Data markup and Open Graph.

All workspaces are customizable and allow adding or removing any columns from the table. To edit a workspace click the small arrow button and it will unfold the dropdown menu with the following options:
Edit workspace - you will be able to add or remove columns from the current workspace;
Clone workspace - create one workspace with the same set of columns:
Copy workspace to another project - you can copy the current workspace to any other Website Auditor project;
Remove - delete the current workspace from the project.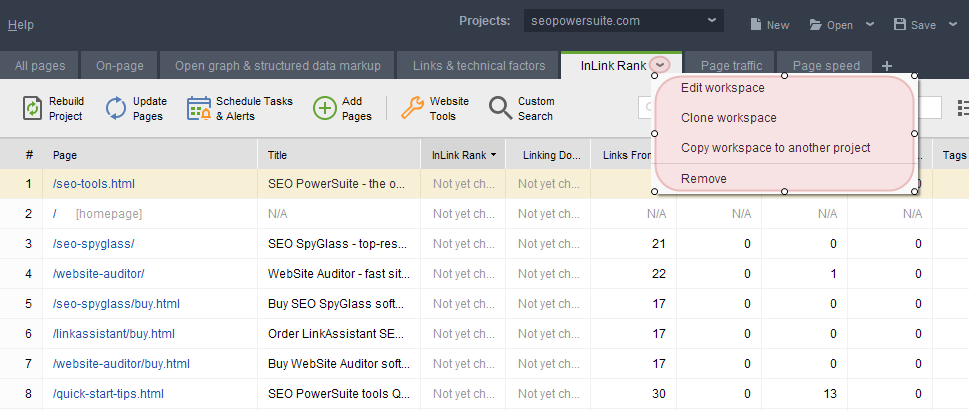 To quickly sort out records in a workspace it is possible to use the quick and advanced filters: