Keyword Sandbox
After using any of the Keyword Research methods, all the newly-found keywords automatically land in your Keyword Sandbox by default.
Keyword Sandbox under Keyword Research is a separate module that accumulates the results you've harvested during the research, and allows you to:
Keep all the found keywords in one place for future use or for a more in-depth analysis
Pick the most SEO-efficient keywords and move them to Target Keywords in bulk, in two clicks
Keep the 'bad fit' keywords blacklisted so that they won't pop up during further research
If you'd like to skip that step and move the findings to Target Keywords at once, you can do so right from the workspace after running any search (the keywords you already monitor will be marked as Tracked).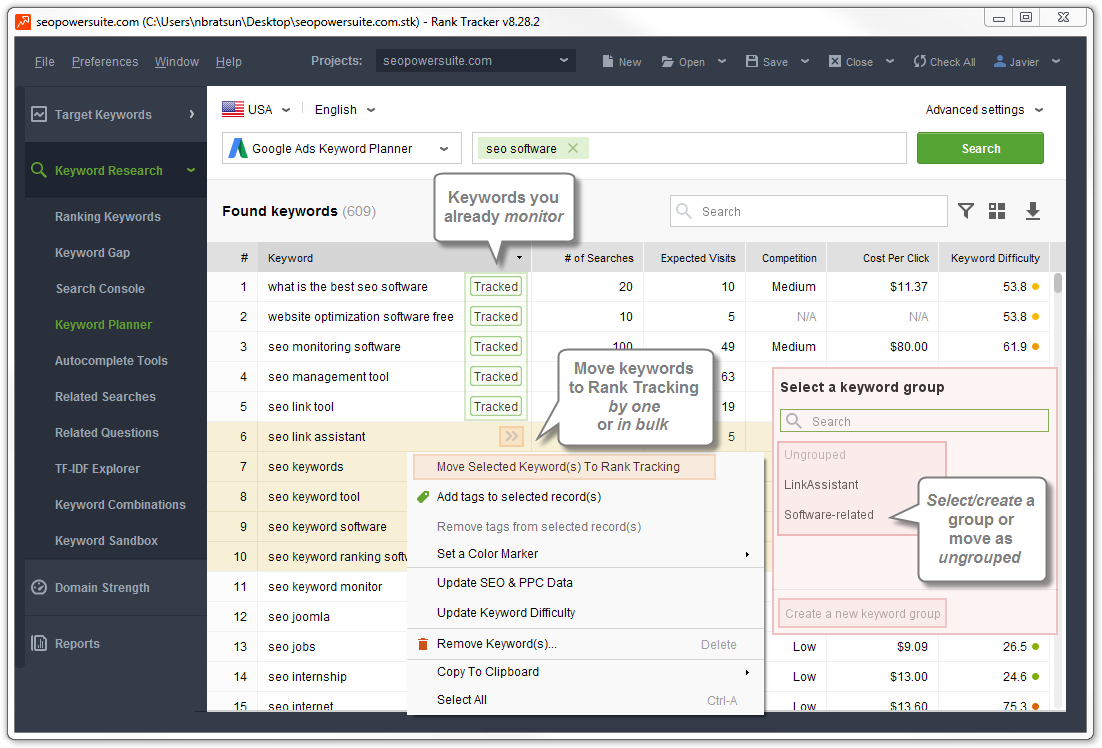 In Keyword Sandbox module, you'll find a top widget showing the overall stats like the total Number of Searches, total Estimated Traffic and PPC Cost, average Keyword Difficulty.
On the left, you may navigate through the Keyword Groups. Both Keyword Groups sidebar and main workspace have the Quick Search filters for your convenience
The Found In column indicates which method each keyword has been found with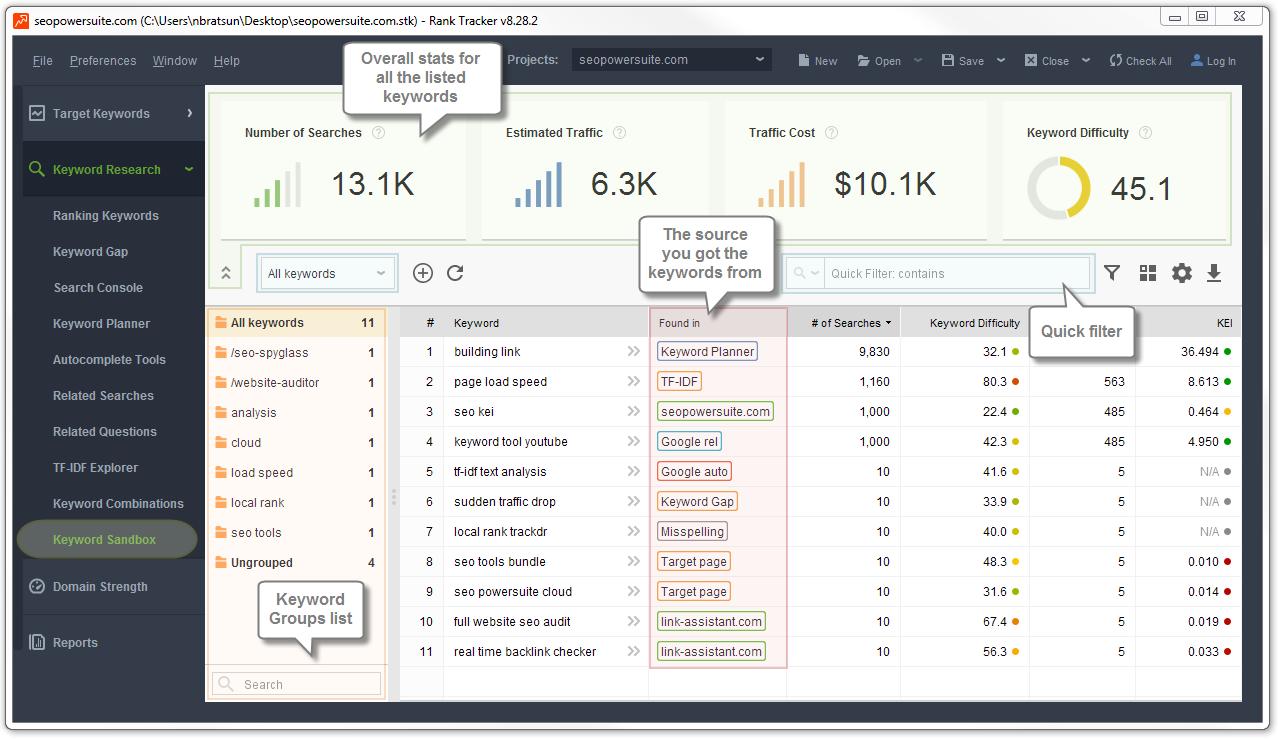 In Sandbox, you may also load any keywords manually for further analysis, clicking on the + button and entering the list, one keyword per line.
Using the pre-defined time filters, you can sort out the keywords added during the last task / today / this week / etc.
In the top right toolbar, you can choose whether to group the keywords automatically and adjust the level of semantic similarity for the groups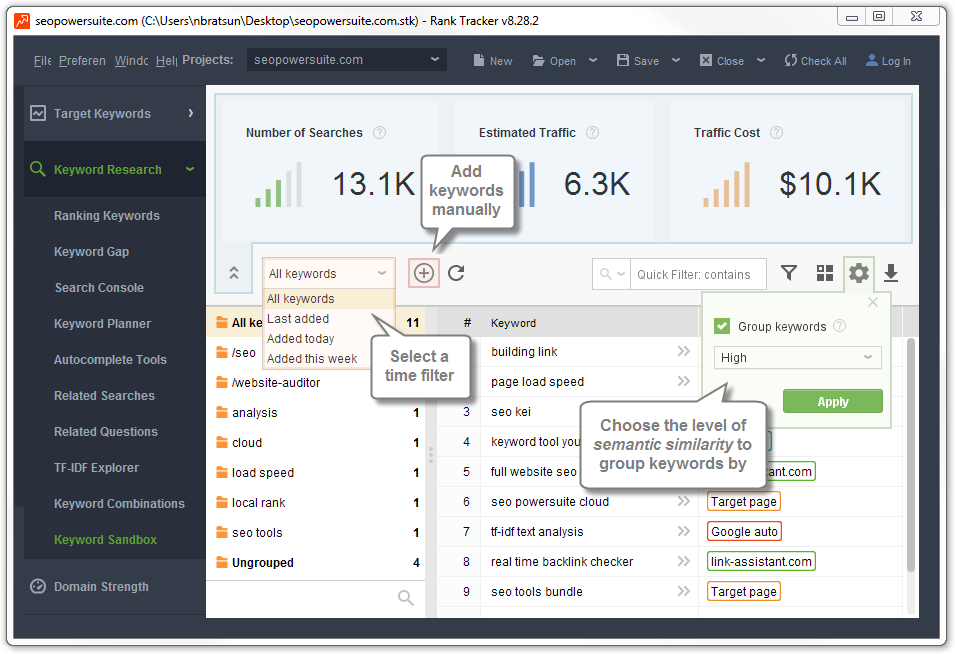 On-hover, you can access the context menu for each Keyword Group to rename it, move / regroup / ungroup keywords or delete the group along with all contents.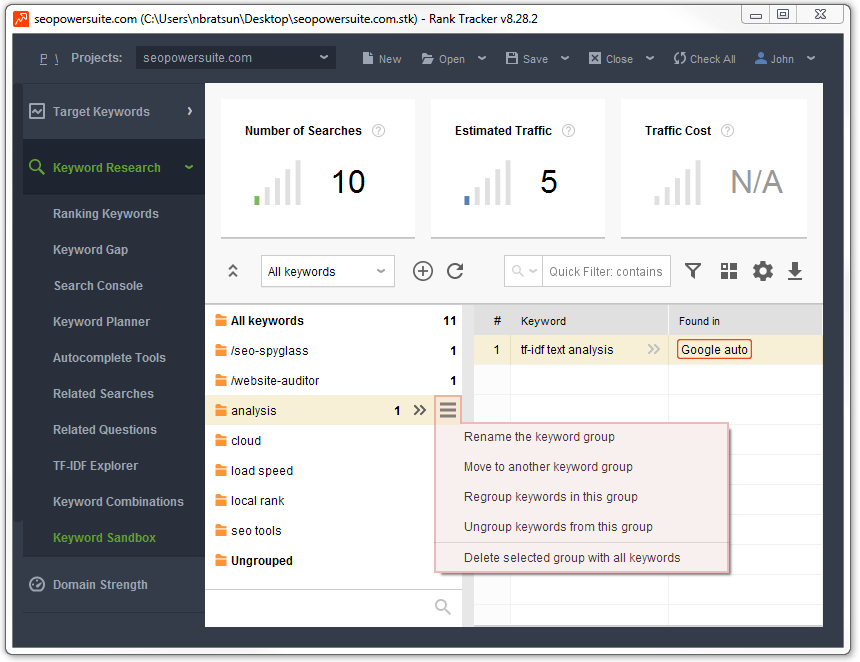 Select multiple Keyword Groups holding CRTL key, and right-click on selection to access the other context menu to move the keywords to Rank Tracking in bulk, or manage the groups.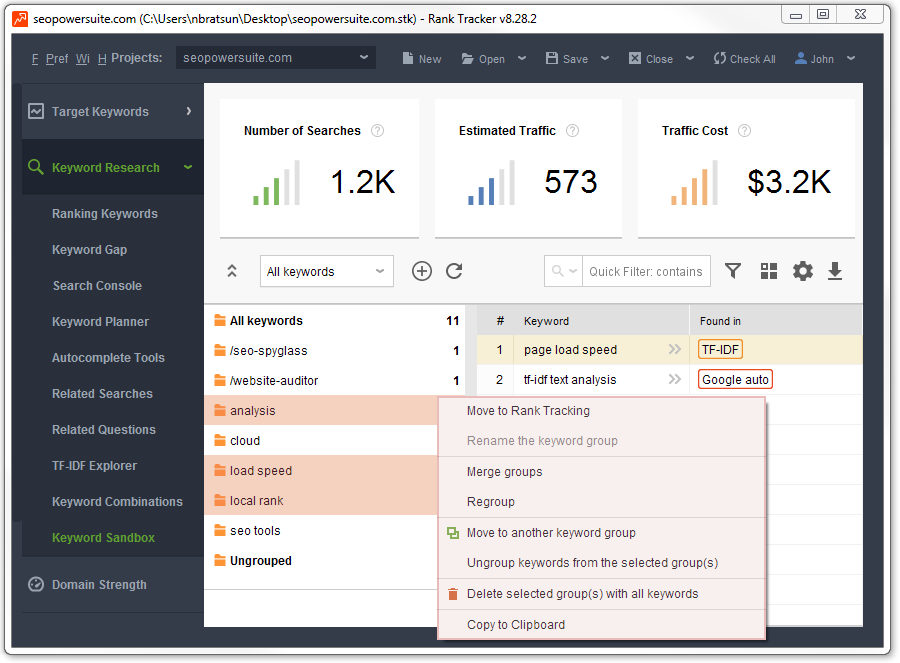 Switching to any certain Keyword Group, you can see the key performance stats for the group. The stats in the top widget will be recalculated on-the-go for all the keywords currently visible in the table so that you could see the average Keyword Difficulty / total Number of Searches / etc. for any group.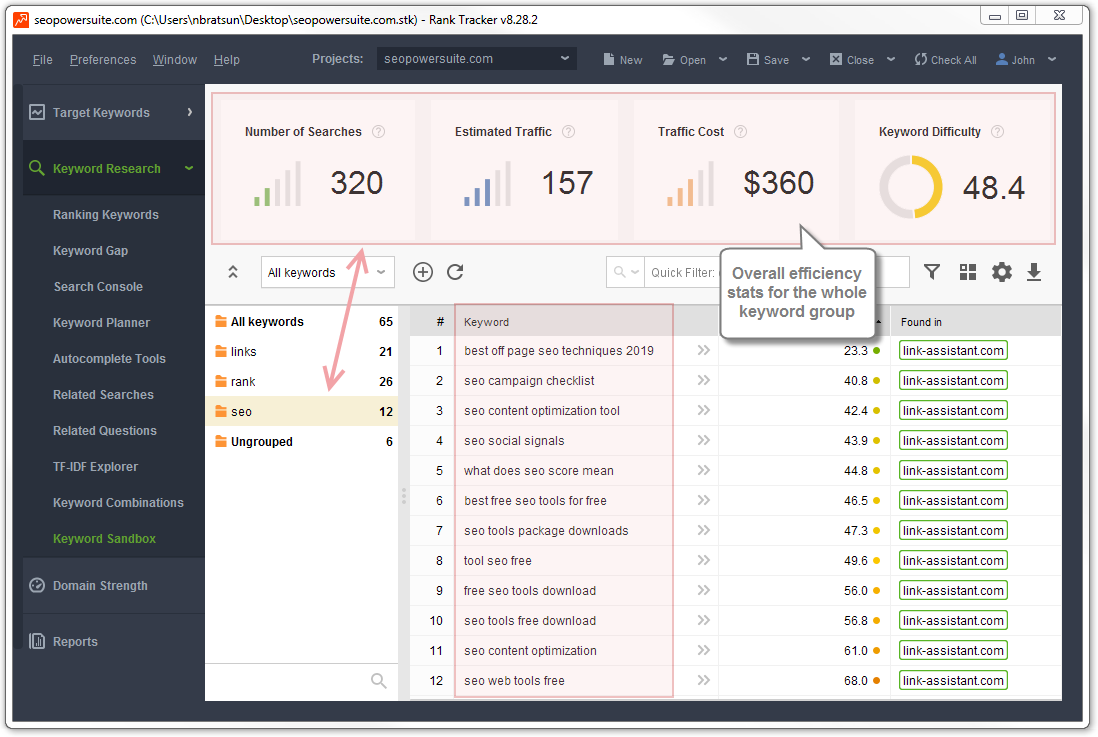 Hover over any certain keyword in the workspace to move it to a keyword group or to the Rank Tracking module, or right-click to manage the selected keywords.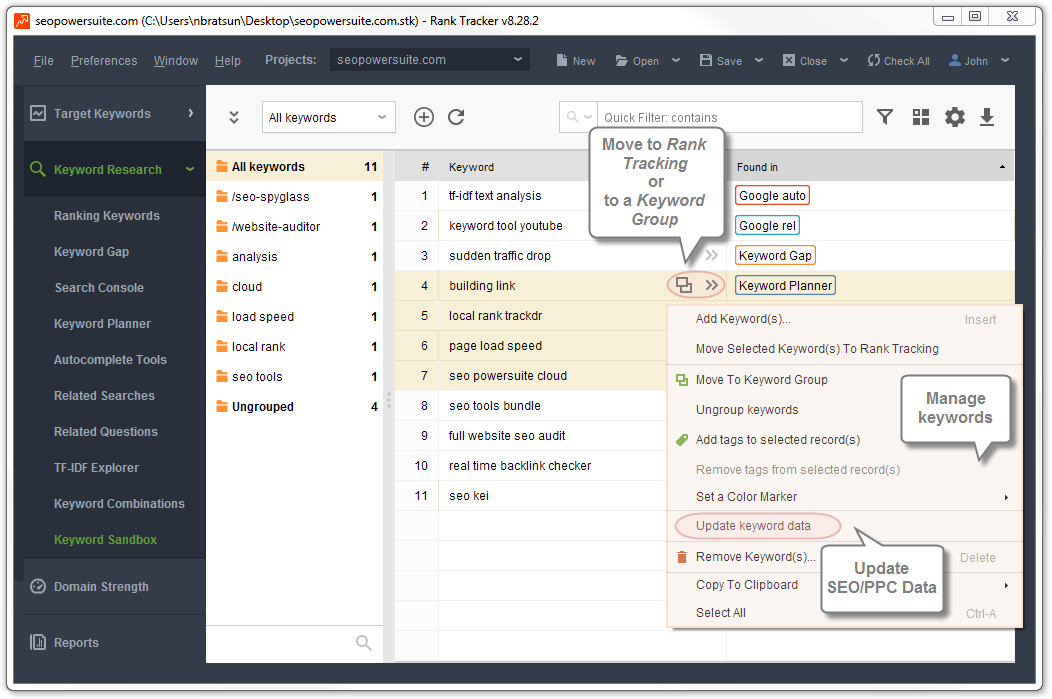 For any keywords in Keyword Sandbox, you can check or update SEO/PPC Data, as well as Keyword Difficulty. Select the keywords, and either hit the Update icon or use the context menu, then choose the factors you'd like to update.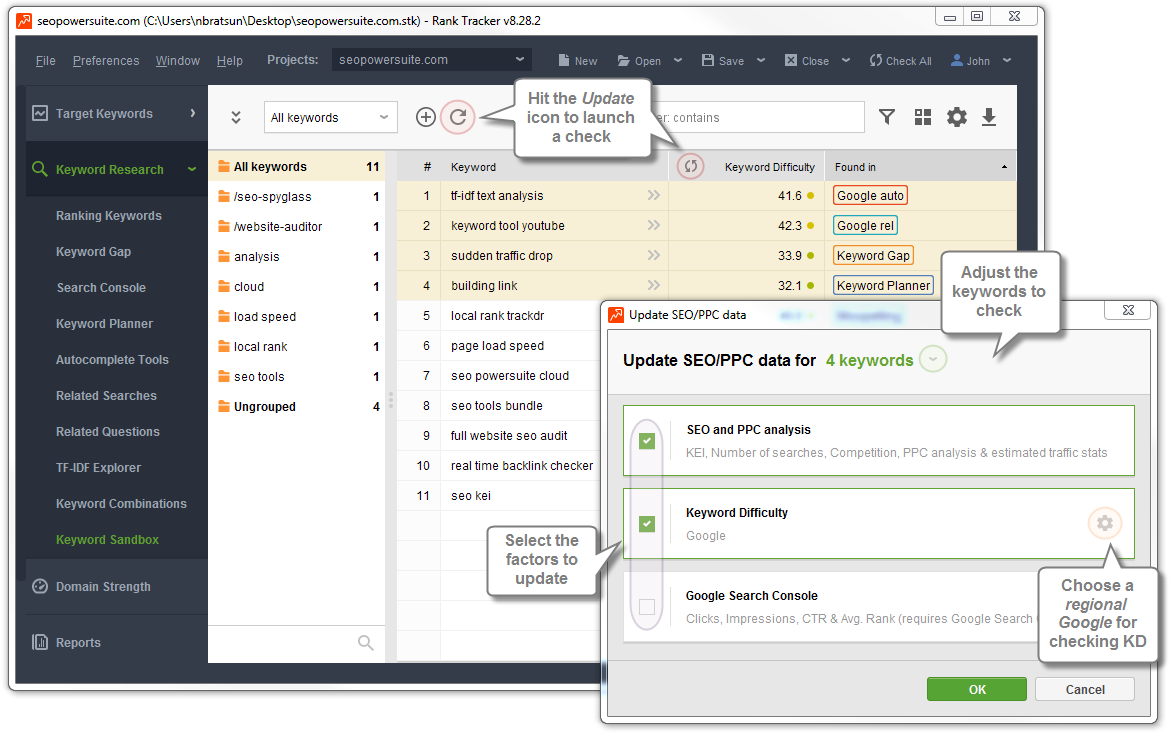 You may sort the data in the workspace by setting up custom filters, and adjusting the list of visible columns; or quickly export the data to CSV.