BuzzBundle won't let me add my blog
Quite often this is a temporary error. It can also be caused by the blog's settings.
Unknown CMS
Blogs are based on a variety of platforms: WordPress, Joomla, Drupal, LiveJournal, Tumblr, Blogger, Habari, CushyCMS - to name just a few. Each time you try to add a blog profile, BuzzBundle needs to identify the content management system behind the blog. If the CMS is familiar, BuzzBundle carries on to the next step. Otherwise it shows an error message saying that the website isn't recognized.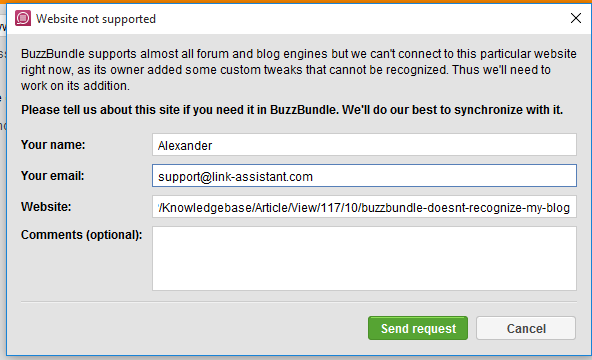 At the moment BuzzBundle works with blogs built using WordPress - the most popular blogging system. We'll be adding more and more blogging platforms on a regular basis. So hopefully the error message will become quite rare.
Unknown commenting system
Another reason you might be unable to add a blog profile to BuzzBundle has to do with the blog's comment management system. It can be a native system supplied with the blog platform (e.g. WordPress or Blogger) or a third-party one (e.g. Disqus, Livefyre, IntenseDebate, Facebook Comments). BuzzBundle works with Disqus and the native WordPress commenting system. More comment management systems are on the way so you'll be able to work with more blogs.
Absense of commenting feature
Some blogs don't let visitors leave comments. The absence of the commenting feature makes such web resources pretty useless to BuzzBundle. The tool checks each blog for the ability to comment and shows an error message if it turns out to be unavailable.

In short, BuzzBundle lets you find and comment on posts published on WordPress blogs that accept comments. If you want to create a new post, you'll need to access the blog manually through a browser.
Please check out this article to learn more about forums BuzzBundle works with. If you are interested in other types of social media sites, you can find up-to-date info here.
---
Posted by:
Created On: 13 November 2012 05:43 PM