How do I create disavow files in SEO SpyGlass?
Google Disavow Tool is the way of telling Google which backlinks to ingore when assessing your site. This is a handy option for websites with big amounts of spammy, low quality backlinks (if you're not sure if there are any harmful links to your site, here's a Full Guide to Link Audit to take you through the process of identifying dangerous links).
Use the Disavow Tool with caution. Google's team

recommends

that you only disavow backlinks if you have a big number of spammy, low-quality links, and if you are positive that the links are causing issues for your site. If you only have a bunch of low quality links, it's a good idea to try and contact webmasters of these sites first, asking them to remove the links.
SEO SpyGlass' in-app disavow file generator lets you quickly create, manage, and see Google disavow files - so that you can then easily upload the files to Google Webmaster Tools. You'll find step-by-step instructions on generating and exporting disavow files in SEO SpyGlass below.
Note that if you already have a disavow file, you'll need to import it into SEO SpyGlass to start working on it in-app. To do that, simply go to Preferences -> Disavow/Blacklist Backlinks, hit Import, and select your current disavow file. This step is important because uploading a new disavow file to Google will replace the previous one – that's why your new disavow file needs to include both the links you disavowed previously and the new ones.
1) Add links to the disavow list. In your SEO SpyGlass project, select the backlinks you'd like to disavow. Right-click the selection, and hit Disavow backlinks.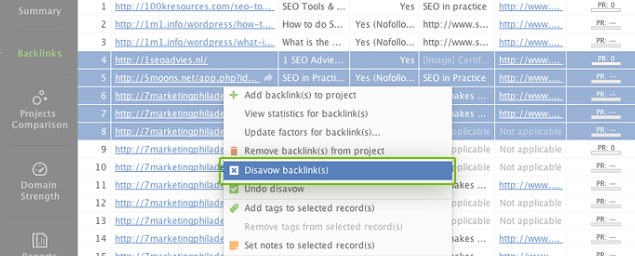 2) Decide if you're disavowing the backlink or the domain, and add comments. In the menu that pops up, choose whether you'll only be disavowing the backlink page you just added (Backlink), or the whole domain that links to your site (Linking Domain). At this step, you can also add a comment to the records you're disavowing. Comments are useful for your own future reference - whenever you review or edit your disavow file later, you'll instantly see what kind of sites you were disavowing and why.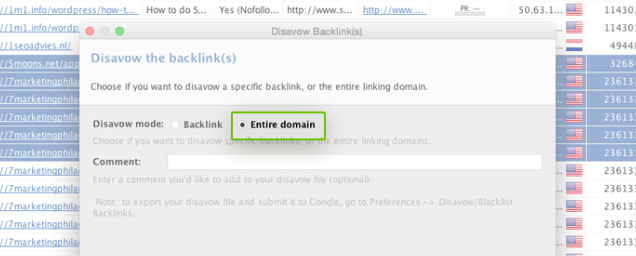 Tip: In many cases, you'd want to disavow on the domain level. Disavowing a single page leaves you at risk of missing other links from the same domain.
3) Review the list. After you've added all links you're about to disavow to the list, go to Preferences -> Disavow/Blacklist Backlinks. At this stage, you can edit the comments by double-clicking any comment to make changes. Clicking Add lets you add links to your disavow links, and clicking Remove deletes selected records from the list. In the Choose the action menu, you can select whether you'd like to simply disavow the backlinks, disavow and exclude them from all future updates you make in the project, or disavow and blacklist the links (have them removed from the project completely).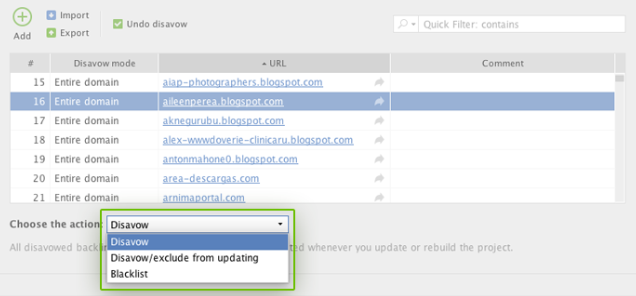 4) Export your disavow file. Once you're happy with you disavow list, hit the Export button and select the folder to save the file in so that you can upload it to Google Webmaster Tools.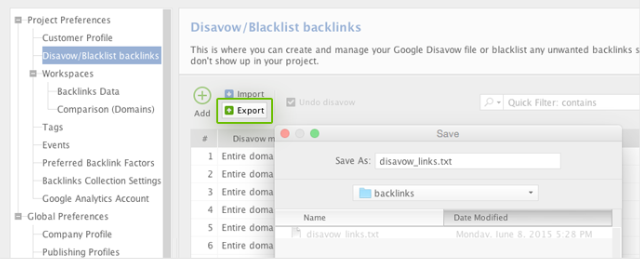 5) Upload your disavow file to Google. In the Google Disavow Tool, select your website and upload the disavow file you generated. That's it – you've told Google which of your backlinks to ignore, and your site is all set to start clean!
---
Posted by: Masha, Link-Assistant.Com Support
Created On: 08 June 2015 03:58 PM